Watch Famous Feminists Read Mean Tweets About Themselves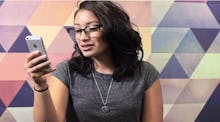 Ever wonder what it's really like to be a feminist? We're here to help. 
Modeled after Jimmy Kimmel's celebrities read angry tweets, this short video shows how women who challenge the status quo are treated online on a daily basis. If you're not sure whether to laugh or cry, join the club. 
While many have tried to describe what it's like to be the target of constant, horrible abuse online, sometimes it's easier to just show, not tell.
When it comes being trolled, many people on the Internet have it bad. But feminists in particular are often singled out for vitriol. The lethal combination of being a woman and having an opinion about the patriarchy is a recipe for a troll cocktail.
Indeed, recent Pew Research Center data show that although men receive their share of online harassment, the harassment women experience is often more abusive, ranging from stalking to sexual harassment and even threats of physical harm. Pew notes that those "who promote themselves online for their job, and those who work in the digital technology industry" are even more likely to feel the online hate. This finding mirrors research conducted earlier this year by the think tank Demos, which showed that female journalists are more likely to receive online threats, regardless of what they write about.
And you don't even need to have any particular level of fame to get harassed. A study from the University of Maryland found that simply having a female username makes you 25 times more likely to experience hateful messages. 
But the good news is more and more women are starting to fight back. For example, the Women, Action and the Media (WAM) has teamed up with Twitter to crack down on trolling. After successfully lobbying Facebook to ban gender-based hate speech on its platform with its #FBRape campaign, the nonprofit hopes to make its competitor a safer, more empowering platform for women of all races and sexual orientations. 
"Women of color, queer women, trans women, fat women, and other oppressed groups of women are especially targeted and abused," the group said in a news release. "The disproportionate targeting of women online results in them removing their voices from the public conversation. We're so glad that Twitter recognizes that the best way to ensure equally free speech for all users on their platform is to ensure that all users are equally free to speak without being targeted by harassment, abuse and threats." 
WAM founder Jaclyn Friedman, a participant in the video, told Mic that online platforms simple need to be held more accountable. "The harassment of women online is a free speech issue. If Silicon Valley can develop a driverless car, they can invent better solutions to make sure their platforms give everyone an equal chance to speak without fear of abuse and violence," she wrote in an email. 
Gender-based harassment won't be solved tomorrow, but perhaps if more people knew of the problems women face online, more would be done about it. It's not only up to the women to stand against abusers, it's up to all of us.