Watch Princess Leia Walk Through New York City for 10 Hours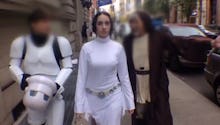 Ever wonder about the struggles an intergalactic princess faces walking through the streets of New York, only to be harassed by forward Stormtroopers and even your own father?
In a parody of the viral catcalling video that sparked a conversation about street harassment (and catalyzed a bunch of spin-offs), Princess Leia of Alderaan takes a stroll through New York City — and the result is shocking. 
Girl, the Force is not with you — especially when Yoda tries to holler at you.
Real talk, though: Catcalling and street harassment is no laughing matter, but this video is. And if this laugh can get more people to think about what it's like even to princesses on a street, then so be it.