Ferguson Is Ready for Battle as Grand Jury Decision Looms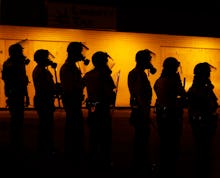 Missouri Gov. Jay Nixon says more than 1,000 law enforcement officers will be ready to hit the streets of Ferguson when a grand jury decides whether it will indict Officer Darren Wilson for the Aug. 9 shooting death of unarmed black teen Michael Brown.
While Brown's parents spent Tuesday in New York City speaking to a United Nations committee about their son's death at the hands of a white cop, Nixon was at Missouri Highway Patrol headquarters telling the world that "violence will not be tolerated" in the aftermath of the prosecutor's announcement.
Police in Ferguson clashed with mostly peaceful demonstrators in the days and weeks after Brown was killed, barraging them with pepper spray, tear gas, beanbag bullets and flash grenades. The protests produced startling images of civilian police brandishing military-grade weapons at unarmed protesters and raised question about how the arms ended up on the streets of an American suburb.
Eventually, the National Guard was called in to tamp down the response and Attorney General Eric Holder visited the city to reassure protest leaders that the system would yield a fair response.
Trouble ahead: But Nixon's tough talk Tuesday was mostly directed at the protesters he seems to believe will have reason to be angry with the grand jury's decision, which is expected in the next couple weeks. They will "have the right to express views and grievances," he said, but not "to put fellow citizens and property at risk."
The governor's office also put out a statement saying police had "received a total of more than 5,000 hours of additional training" to prepare them for new demonstrations. In his remarks, Nixon did not specify what kind of training they underwent or for what level of conflict they had prepared. 
The governor did not discuss any potential Federal Aviation Administration plans to close down airspace over Ferguson, as it had during the summer clashes, in an effort to shut out the news media. 
Protest leaders bristled at Nixon's plan, saying it would cause more harm than good.
"For nearly 100 days, the preponderance of violence has come from the hands of police," community organizer Damon Davis told USA Today. "We have proven we can peacefully assemble and function at a protest. Can the police say the same?"
"Reactionary policing techniques" like those Nixon had doubled down on his message today were only going make things worse, said Ashley Yates, co-creator of Millennial Activists United.
She could hardly be blamed for coming to that conclusion. The governor struck a bizarrely harsh tone in his comments. The language of conciliation, so present and important in de-escalating the clashes in late August, was gone. The stage has been set, once again, for a dangerous face-off between a swollen police force and emotional protesters.