Israel Is On the Verge of Violent Conflict — Again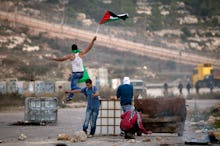 Tensions between Israel and Palestine have erupted into multiple violent events over the past week as both sides escalate rhetoric that could lead to military action.
In competing speeches on Tuesday, Israeli Prime Minister Benjamin Netanyahu and Palestinian President Mahmoud Abbas each condemned the other side for a series of fatalities, with Netanyahu vowing to take a "heavy hand" against violent protesters and Abbas accusing him of leading the Middle East into "religious war," according to the Associated Press.
The statements come as clashes between Palestinian protesters and Israeli police are growing more frequent amidst violent outbursts that have left citizens on both sides injured or killed.
The timeline: On Friday, a Palestinian working illegally in Israel was set on fire in northern Israel. The next day, Israeli police shot 22-year-old Khair al-Din Rouf Hamand to death after he came at them with a knife, though video appears to show him retreating when they fired.
The shooting of Hamand led to protests in Palestine and among northern Israel's Arab population along with retaliations from both sides, including car rammings that have killed children and stabbings that left two Israelis dead. Israeli and Palestinian officials have both characterized the incidents as terrorist acts, but the attacks have not been tied to any particular organization.
Israel has stepped up police presence in its cities and deployed hundreds of troops to the West Bank, according to the Los Angeles Times. While protesters have thrown rocks and other objects at law enforcement, they have been met with tear gas from police.
What it means: Despite the strong words from both leaders, some observers are cautioning against overblowing the situation. Yaakov Amidror, the former national security adviser of Israel, told reporters that protesters can't be lumped in with people resorting to violence.
"This is not the same and shouldn't be connected to terror actions," he said.
But protests are beginning to coalesce, according to the Daily Beast, with rallies occurring in Tel Aviv and Jerusalem, in addition to those in northern Israel and the West Bank. There's a chance that a protester crackdown by Israel could lead to even wider spread rallies, potentially igniting an already volatile state of affairs.