The Most Powerful Lessons About Sex Come From the Women Who Aren't Having It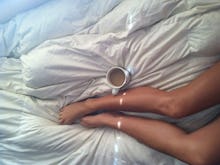 What is sex?
It sounds like a trick question — after all, we talk about sex all the time. We're obsessed with who's having it and why they're having it. We're obsessed how they're having it and how often. We're obsessed with whether we're doing it right or wrong, and we simultaneously celebrate and shame ourselves for turning our sex lives into Internet fodder.
Data shows that the vast majority of U.S. adults have experienced some form of sexual contact — a Centers for Disease Control and Prevention report showed that 97% of men and 98% of women ages 25-44 have had vaginal intercourse. Yet the word "sex" is more complicated and layered than we often acknowledge. It means something different for everyone — including those who aren't having it. 
Below are the stories of seven women in their 20s and 30s who aren't having sex. And their reasons — which are as varied and complex as the meaning of sex itself —  reveal the important truths we too often forget or ignore when we talk about it. 
"Sex" isn't one specific act.
Emily, who's in her 30s and lives in Australia, points out that sex isn't simple to identify.
"In my early 20s, I had done some fooling around with people but was still waiting to get it right. Like, when am I to have the sex that I read about, that everyone talks about, that's everywhere in the media, where you get swept away and you're passionate and you're overwhelmed with pleasure? Or even just enjoy what you're doing? 
I 'lost my virginity' to a man, but I still think, 'Well, when did I lose my virginity to a woman? Was it that? And when I hooked up with that other person, did we actually have sex, or just fool around?' There's a worship of the idea that 'P-in-V' is the only way you can lose your virginity. That is kind of ridiculous and contributes to that black-and-white idea of what sexuality is.
It's only been in the past couple of years that I've come to realize that I'm asexual, which has been a pretty awesome realization. I've always been a sexual person, but I've never really been attracted to other people. 
The best kind of metaphor I can use for [my view on sex] is: It's like picking your nose. It can be quite satisfying to pick your own nose, and that's fine, you can do it, and there's no issue with that. But picking someone else's nose? That's just weird. I just don't want to have sex with anyone, and that's fine.
Asexual does not mean non-sexual. We're acculturated to have this understanding that sexuality is about who you have sex with, as opposed to what you think about, what you feel, how you masturbate, what you think about when you masturbate — all that kind of stuff. It's a lot to wrap your head around when all you think about is who else you have sex with being the entirety of sexuality. I think lots of people struggle with it, but I certainly don't."
Sex doesn't just inevitably happen by a certain age.
Molly, who is 30 and lives in Minnesota, hasn't had sex yet. And it's as simple as that. 
"There is this narrow window between too young and too old to be losing your virginity — people sort of expect it to happen in high school, but it's also kind of sketchy if it happens in high school, and then you get into your 20s and immediately it starts being too late. When you're in your early 20s, it's kind of like, 'Oh, well, maybe it's taking a little while just to happen and it still could.' The more I grow up and settle into habits and routines about the rest of my life, the less it seems like love, sex and relationships are just waiting in the wings to happen.
It's not that I have any moral opinions that sex needs to be connected to a relationship, but it's not very appealing to me outside of that context. 
'Virgin' has so many connotations of youth and inexperience and innocence that I don't identify with at all. I'm a grown-up person, I live independently in the world, I earn a living, I've lived abroad, I've had experiences. 
There's no one reason for people's sex lives or lack thereof to turn out the way they do. ... I've made a series of choices that have led to where I am now in every respect of my life, and being 'alone' is just one part of that." 
Religion isn't the only reason women "wait for sex."
For Ali, who is 25 and from Philadelphia, waiting to have sex gives her peace of mind. 
"I'm Catholic, but I didn't grow up in a really conservative Catholic environment. As I got older, I realized that there was more to waiting to have sex than my religion dictated. It was more of my own personal choice. And I really liked waiting — that might sound weird, but I've really liked it. It gave me a lot of peace of mind, and really allowed me time and space to work on myself during what I believe are really important years as a woman.
I have to really love someone to do anything sexual with them — I don't even get turned on unless I have an emotional connection to a person. And that might be weird, but I think it's not that weird. It just doesn't turn me on; it's not sexy if I don't know the person's mind. 
Emotionally, [sex] is a big step, and it's something that I'm really thankful that I will have taken vows before I do it. It's going to be a really beautiful addition to an already beautiful love that exists between [my boyfriend and me]. I personally believe that a marriage is two people who have made a space for the other that no other person can enter. And part of that unity and bond is sex. 
Some people just think that [being a virgin] makes me a pussy, buttoned-up, going-to-be nun; but really, I'm just a woman living in this century in this country, with an education, who works full-time, who's made the decision to not have sex until she's married." 
Sometimes, the decision to not have sex isn't a decision at all. 
Audrey, who is 26 from New York City, hasn't been in a relationship that's led to sex.
"There's an expectation that emotional and physical closeness are the same thing, or at least done at the same time. And that's definitely not true for me, and I don't know how true it actually is for other people. 
I could definitely tell somebody that [I'm waiting until marriage], but it's not really the truth for me. It's more that I'm waiting for a relationship that feels right. I personally don't really buy into the idea of waiting for marriage even though I kind of have wound up doing that anyway. It wasn't necessarily a conscious, 'I'm going to wait until marriage to have sex' — it was more that I just wasn't interested. Honestly, it's something I still think about a lot. Especially now, I'm like, 'Does this mean I'm maybe asexual, or is it just that I'm just not that fussed about sex?' And I don't know. I've definitely met people who I was like, 'Yes, I would have sex with you,' but for whatever reason it didn't pan out. ... It just never happened.
When somebody finds out that you've not had sex, then it becomes a question of: Why not? And then you have to explain yourself — whether it's because of your family background, or because of your religious background or just because you're just not that interested in it. And then it becomes this kind of spiraling, "Well, why aren't you interested in it?" And then this idea of, "Is there something wrong with you?" It becomes an awkward conversation automatically because most of the people that I know just kind of assume you've had sex at this point in your life."
Not everyone wants to have sex.
Beth, who is 32 from Boston, feels aesthetic and romantic attraction — but not sexual attraction. 
"Before I discovered the whole concept of asexuality — before I discovered that that was me, back when I was just assuming, 'I'm straight but repressed,' or 'I'm straight but really picky,' or 'I'm straight but I've never met the right guy and probably never will because I have a low sex drive' — I had this idea that most people experiment in high school and early college, and I was too introverted so I never got around to it and now it's too late.
[But] I never felt like not having sex was a lack in my life. I don't really feel sexual attraction to any significant degree. I will look at a person and think, 'Oh, they're really pretty.' I will meet a person and go, 'Oh, they're really cool, I want them to like me.' But I want them to like me as friends, I want to hang out with them — I don't want to kiss them, I don't want to have sex with them, I don't want to see them naked. I don't fantasize about that with myself involved with actual people. 
There's a distinction between aesthetic attraction, romantic attraction and sexual attraction, which I think makes a lot of sense. I would say I feel two of those and don't really feel the sexual attraction to any significant degree. I'm dating a lady, we're very happy, we have never had sex and I don't ever really want to have sex. It just doesn't interest me.
There's a whole lot more variation than is widely talked about in terms of what people want out of life, out of relationships, out of their own bodies."
The intimacy of sex goes beyond the physical act.
For Ellen, age 26 from Minneapolis, meaningful sex is worth waiting for.
"There's so much more that goes in to have the decision to have sex than I think people attribute. There are different levels of intimacy and different levels of trust and vulnerability that it's a huge decision, whether you're deciding to wait or deciding to have sex. It's a big decision, and I don't know if it should be considered anything less than a big decision. Love and sex should go together. 
People talk about slut-shaming a lot, and it's like those girls get just as much flak as I'm getting. There is no 'normal,' there's no sweet spot, like, 'Oh, you've had sex three times, you're OK.' It's such an individual thing, that people think I'm crazy for not having sex, but then they'll turn around and call a girl who does have sex a slut. And so there's no winning, really. Women have the pressure of trying to figure out where that line is, between 'I don't want to be a slut but I don't want to be considered a prude either.' 
[When I talk to people who've had sex], they tell me, 'The times that have been the best and most meaningful to me were when I truly care about the person.' They might not agree with me on anything else but they'll agree that love should have a role in having sex."
Ultimately, the only rule surrounding sex is that the decision to have sex — or not to — is yours. No exceptions.
Casey, who is 23 and from the Northeast, is waiting until marriage. And she is proud to do so. 
"I never thought that I was forced into waiting or that the decision was anyone's but my own. My parents never forced me to do anything — they actually assumed I was having sex a long time ago. They were surprised when they found out I'm not.
There's an idea in Judaism that when you and your husband have sex, you connect on a very spiritual level. When you have sex you have an instant connection, and you shouldn't be having that spiritual and uplifting connection with so many different people. [One reason I'm waiting] is this sense of tradition and this sense of the beauty that comes along with having this connection with your husband in a different way than with somebody else.
I don't expect any of my friends to wait or for them to be in the same boat as me. And I don't judge someone [if they've had premarital sex]. This is something that's a personal decision that I have." 
*Interviews have been edited and condensed for clarity. Some names have been changed.