The U.S. and China Just Struck a Historic Climate Change Deal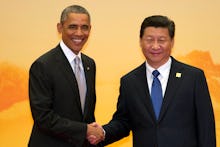 President Obama and Chinese President Xi Jinping unveiled ambitious new targets for greenhouse gas reductions at the Asia-Pacific Economic Cooperation (APEC) Summit in Beijing on Tuesday night. According to the New York Times, the two leaders had been in secret negotiations for months.
According to the Associated Press, "the U.S. set a new target to reduce its emissions of heat-trapping gases by 26 percent to 28 percent by 2025, compared with 2005 levels." Earlier in his presidency, had Obama set a goal to cut emissions by 17% by 2020, compared to 2005.
It's a historic deal for both countries. According to the Associated Press, the announcement was timed with the hope of spurring other countries to set targets ahead of a global climate treaty scheduled for 2015 in Paris. 
White House officials told the New York Times the agreement, which was "worked out secretly between the United States and China over nine months and included a letter from Obama to Xi proposing a joint approach," could help galvanize international efforts toward fighting climate change.
Editors Note: Mar. 3, 2015 
An earlier version of this article cited Associated Press reporting, but did not include quotations around the cited passage. The story has been updated to fully attribute the Associated Press' language.