Remember Ukraine? The Country Looks Headed for a Fresh Round of Violence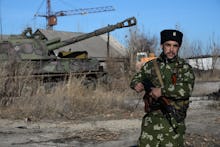 Over the past week, the low-level conflict between rebels and Ukrainian forces in the eastern part of Ukraine has been heating up as reports say columns of Russian vehicles, equipment and troops are approaching and crossing the border.
The recent escalation has come despite a cease-fire signed in early September, which is now a cease-fire "in name only," by Gen. Philip Breedlove, NATO supreme allied commander Europe. "The violence continues to increase day by day," Breedlove told reporters Tuesday.
The buildup: There are already tens of thousands of Russian troops at the border. But according to the Daily Beast, as many as 7,000 of those troops may already be in Ukraine.
And it's not just boots on the ground. Phillip Karber, a former Pentagon strategy adviser who just got back from Ukraine, told the Daily Beast that there are currently 100 tanks, 400 armored vehicles and more than 150 self-propelled artillery in the country right now.
Meanwhile, observers working with the Organization for Security and Cooperation in Europe have reported seeing many unmarked military vehicles, including a convoy of 43 that included howitzers and rocket artillery.
What it means: Russia has not claimed responsibility for the troops and equipment crossing the border. When Russian forces were found entering Ukraine back in August, the Kremlin's response was essentially that individual soldiers may have been heading in of their own volition.
If the current reports are true, Russia seems to be taking a similar strategy: See how much it can help the rebels while still making it difficult from a foreign policy standpoint for the U.S. and other Ukraine allies to formally call it an invasion.
Last time, the U.S. called it an "incursion" and an "escalation" in hopes of preserving talks for a cease-fire, which eventually came to pass. Now, with that agreement on the outs, it remains to be seen how other countries will react.