29 Songs Perfect for People with Musical ADD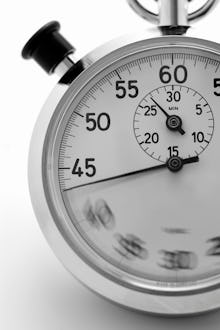 The digital music revolution is killing our musical attention spans.
Our generation is uniquely prone to skip, shuffle and bounce around when a song doesn't immediately grip us. According to a recent survey of Spotify data, there's only about a 50% chance that most people will actually listen to song all the way through once it starts. And as streaming services grow in popularity, it doesn't look we'll be re-extending our attention span any time soon.
But music doesn't need to be long to be great. Albums may be on their way out, but there's a wealth of legitimately good songs that are actually less than a minute. It doesn't take a full three- or four-minute song to make a great musical experience — and these songs only prove it.
Here are 29 songs — most of them on Spotify — that you can listen to in less than a minute.
"Her Majesty" by the Beatles
"Her Majesty" is the shortest song in The Beatles' canon and one of the first examples of a hidden track in rock 'n' roll. They added it to the end of Abbey Road as an " accident ." One of the loveliest accidents in music history.
"fz pseudotimestretch+e+3 [138.5]" by Aphex Twin
"Supervillain Theme" by Madvillain
"Fkn Dead" by Flying Lotus
"Oakland Stroke" by Tower of Power
This is about as funky as a drum break can get. It stands to reason — Tower of Power is one of the best funk and soul bands of all time.
"Paradiso" by Azealia Banks
A quick verse from hip-hop's brightest rising star about kicking it in paradise. 
"Yr GF" by Flagland
"Little Room" by the White Stripes
This is music at its most fundamental: Two musicians, one beat, one note, one minute.
"Bow Tie Daddy" by Frank Zappa
"Fertilizer" by Frank Ocean
Ocean's "Fertilizer" is actually a cover of James Fauntleroy's three-minute-long "Fertilizer." With some quick edits, this becomes one of the soul singer's rare treasures.
"Uncle Al" by Earl Sweatshirt
"Lesson With the Master" by Onra
"Five per Cent for Nothing" by Yes
"Sarsprillsa" by Man Man
"Gee" by the Beach Boys
In 1968, when the Beach Boys attempted to record their magnum opus, Smile, they came up with many fragmented musical ideas. That's why they didn't finish the record, but when the group released an unadulterated version of the record decades later, some of those short tracks proved magical. You can hear the group's legendary energy and ingenuity captured in this short burst.
"She Just Won't Believe Me" by Tame Impala
"Beach Is Better" by Jay Z
A brief, playful verse about Jay Z trying to motivate Beyoncé to ready herself to leave the house faster. This is one of the strongest verses on his most recent Magna Carta Holy Grail. Strangely enough, it's not even the shortest song on the album.
"Tunnel Vision" by the Roots
"Light My Fire" by J Dilla
J Dilla was the absolute king of the minute-long track. His seminal work, Donuts, completed on his death bed, was essentially a 31-track album full of them, each one more inspiring than the last.
"Prismism" by Battles
"We'll Die" by Thundercat
A short, creepy song from one of the greatest contemporary bassists, "We'll Die" is an existential minute's worth of music.
"Riffs and Variations on a Single Note for Jelly Roll, Earl Hines, Louis Armstrong, Baby Dodds and the King of Swing, to name a few" by Sufjan Stevens
One of the few artists whose titles approach the length of his songs.
"928 Horn Jam" by Trombone Shorty
"The Lisa Lisa / Full Force Routine" by the Beastie Boys
"Ascension" by Zomby
"Love Defined - The Bible" by Daniel Johnston
"Wall of Gum" by Black Moth Super Rainbow
"Embryo" by Black Sabbath
"Blood" by Goodie Mob
Goodie Mob eventually released a full-length version of this song on their compilation album America Is Dying Slowly, but the truncated version gets the same point across in a more efficient and poetic manner. 
The one-minute form forces artists to think about what really matters — it forces them to get to the core of their music. And it takes the listener there with them.