20 Fascinating Documentaries to Watch on Netflix Right Now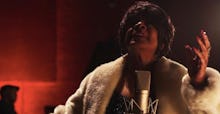 Never underestimate the power of a good documentary. 
First, they offer unique insight on subjects ranging from conversational topics to underreported subcultures. They craft stories through interesting interviews, experimental shots and compelling footage. And better yet, they make great dinner party fodder. Talking up Blackfish is a surefire way to impress a first date, as is offering a compelling perspective on Banksy's street art. 
Thankfully, Netflix is here to help up your cool factor. From Being Elmo, which explores the man behind the Muppet, to Inside Chipotle, which explains the story of your favorite burrito's success, you can become deeply cultured from the comfort of your couch.
So sit back and become a mini-expert by watching these flicks:
Lost Angels: Skid Row Is My Home
Skid Row, an area of downtown Los Angeles, is known for the large number of homeless people who line the sidewalk with shopping carts and cardboard boxes. But as one of the individuals in the trailer puts it, "Skid Row is what people make it to be." The doc sets out to display the vibrance of the community in a stigmatized area.
Blackfish
If you loved going to SeaWorld growing up, this documentary is going to make you think twice before visiting amusement parks. Blackfish follows the story of Tilikum, a killer whale captured in 1983 that has been involved in three deaths. The film takes a critical eye to SeaWorld's treatment of their animals and the world of animal captivity. If you've already watched Blackfish, check out what has happened to SeaWorld since CNN aired the documentary a year ago.
Inside Chipotle
Chipotle is a freaking godsend. Who doesn't want a reasonably-priced, expediently made burrito? Inside Chipotle focuses on the Mexican grill's clever marketing strategies. While the basic menu hasn't changed since the first location opened its doors, the company has more than tripled its stores in the past five years . Probably because they charge so much for guacamole on the side (just kidding, Chipotle, we love you!). 
Alive Inside: A Story of Music and Memory
Alive Inside shares the stories of people suffering from Alzheimer's and the healing effects music therapy has had on them. The film also looks at the history of the human-music connection, and how the arts can be used as a healing method. 
Tiny: A Story About Living Small
Whoever said that less is more needs to watch Tiny: A Story About Living Small. The flick follows a couple attempting to build a compact home from scratch while weaving in profiles of other families who have given up McMansion aspirations and embraced the tiny lifestyle. 
20 Feet From Stardom
They're talented but often unseen: backup singers. Twenty Feet From Stardom gives an inside look at the world of songstresses often hidden behind the frontman. As one of the women in the trailer expresses, backup singing can be a springboard as long as it doesn't become quicksand. The talent is real and now these musicians are hoping for their big break. 
The Price of Gold
In what could be the storyline to a daytime drama, this ESPN production is about the scandal surrounding two figure skaters at the 1994 Winter Games in Lillehammer, Norway. Weeks before the Games started, a stranger clubbed American skater Nancy Kerrigan's right knee. Turns out competitor Tonya Harding's ex-husband orchestrated the plan that damaged both Kerrigan's body and her chance at gold.
Burt's Buzz
Who is Burt of Burt's Bees lip balm? That's the question Burt's Buzz answers. Instead of letting all the fame from being the face of a widely used product go to his head, Burt Shavitz stays low-key, sticking to his secluded home and piling wood in his furnace. He's a photographer, beekeeper and brand spokesman, albeit one with a complicated relationship with the company. 
Miss Representation
Miss Representation discusses the overt misrepresentation of women in media and their underrepresentation in positions of power. Complete with interviews of iconic female figures such as Condoleezza Rice, Katie Couric, Geena Davis, Lisa Ling and Marissa Mayer sharing their take on the issues, this documentary is supreme necessary watching. 
How to Die in Oregon
Brittany Maynard, the terminally ill 29-year-old who vocally supported the right-to-die movement, was all over the media in the final weeks before she ended her life. If her story caught your attention, watch this film that covers the Oregon's Death with Dignity Act and reveals the stories behind the people who are interested in aid with dying.
Exit Through the Gift Shop
Street artist Banksy has become a cultural icon and a speaker for today's generation. Exit Through the Gift Shop also shows that the street artist is one of the biggest and smartest trolls around. French shopkeeper-turned-documentarian Thierry Guetta attempted to capture Banksy in his project, only to have the phantom turn the cameras on him.
World's Most Dangerous Drug
A production from National Geographic, this documentary breaks down the science behind Breaking Bad. You probably already knew meth is both horribly addictive and horrible for you, but watch World's Most Dangerous Drug to better understand why. 
Bridegroom
Bridegroom examines the case for LGBT couples' hospital visitation rights and legal protections through the tragic story of Shane Crone and Tom Bridegroom. After a fatal accident left Bridegroom on the edge of death, Crone was prohibited from visiting him in his last hours at the hospital because he wasn't "family." Crone was also not allowed to attend his partner's funeral because of Bridegroom's bigoted relatives. 
Joan Rivers: A Piece of Work
Love her or hate her, Joan River's death shocked the entertainment world. This movie follows Rivers for 14 months and peels back her harsh humor to reveal context about the business and the building of the comedienne's career. 
The Invisible War
In 2010, the Department of Defense processed 3,198 reports of assault, but actual numbers estimate closer to 19,000. The Invisible War sheds light on the prevalence of sexual assault in the military. Survivors share their stories of facing violence and how the justice system failed to take action against the perpetrators, instead the common practice of forcing survivors out of service. 
Freakonomics
Based off the book of the same name, Freakonomics brings together a flurry of hilarious case studies that explore human behavior. The film has four segments, including one about the effects of offering kids financial incentives for studying and another investigating the implications of names in personal and social growth.
Dark Girls
Dark Girls looks at colorism based on skin tone among African-American communities. It examines the intersection of beauty ideals and racism, along with building on the famous 1940s black doll experiment by Kenneth and Mamie Clark. One interviewee is Oscar-nominated actress Viola Davis, whose role in ABC's mystery-drama How to Get Away with Murder also explores ideas of beauty. 
Terms and Conditions May Apply
Hardly anybody completely reads through the terms and conditions at the bottom of registration forms for things like Twitter and Facebook accounts. This flick will give you insight on what you're actually signing off on and what these corporations might be doing with what you think is "private" information. 
The Loving Story
The Loving Story isn't your generic love story. It recounts the 1967 Supreme Court decision that legalized interracial marriage. At the center of the case was the relationship between Richard Loving and Mildred Jeter, who were white and black/Native American respectively. The Loving Story is a perfect watch if you're interested in race issues. And hey, we're already headed to a society where Americans will look like this.
Being Elmo: A Puppeteer's Journey
Elmo is every child's beloved red Muppet, but who is the man behind the falsetto? Narrated by Whoopi Goldberg, Being Elmo answers that question and tells the story of Kevin Clash, creator and voice of the Sesame Street resident. Full of heartfelt moments, this documentary is dripping with nostalgia if you grew up watching Elmo and friends.
Looks like you got a whole queue to get through. Don't worry, though, next get-together with friends you'll be the smartest one there.