In One Stunning Photo Shoot, 'Vogue' Models Are Fixing Fashion's 'Plus-Size' Problem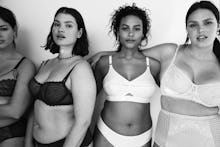 The fashion industry has a "plus-size" problem, as the rest of the world found out this week. But Vogue just took a beautiful step toward fixing it.
A gorgeous new black and white photo shoot hit Vogue.com Wednesday, highlighting bras for bigger-chested women. Accompanying the cheeky text — "Give me a D! Give me an F!" — were 14 photos of happy bra-and-panty-clad models in all shapes and sizes. 
Nowhere does Vogue.com mention the words "plus-size." But as BuzzFeed pointed out, all the women are technically "plus-size models," and famous ones at that. Ashley Graham scored a landmark Elle Quebec cover this year, followed by the launch of her own plus-size lingerie line; Julie Henderson was featured as a "curvy" model in a 2010 Vogue Italia video and has posed for H&M and L'Oréal campaigns; and Marquita Pring, Tara Lynn and Candice Huffine got their early breaks in a V Magazine's bold 2010 "Curves Ahead" shoot, going on to become well-known modeling names.
They're all successful models who, up to this point, have been generally branded with the label "plus-size" and relegated to certain work. Plus-size fashion models, which can mean anything above size 6 or 8, often find themselves posing in either ugly clothes in catalogs (as Tim Gunn described typical plus-size offerings, "You've never seen such hideous clothes in your entire life") or in gratuitously nude spreads that make a fetish of their curves (see the aforementioned V Magazine shoot). The worst shoots add food into the mix, making a caloric mockery of the models' size.
And they're almost always designated in captions and headlines as "plus-size." Unsurprisingly, it's not a label the models like. "At the end of the day, I know who I am. I am a model, and I happen to be curvy," Graham told HuffPost Style. 
As Huffine told The Cut in 2012, after shooting a landmark story for W magazine, "I really appreciate everyone at W magazine for not making it like, our token curvy body, our plus-size model. It was like I was a model just like the rest. This is the evolution of what we're trying to do [with plus-size modeling]."
Plus, as everyone was reminded with the kerfuffle over Elle.com's model interview this week, what the fashion industry calls plus size is actually far from accurate or useful. In an interview with Calvin Klein model Myla Dalbesio, Elle.com's Leah Chernikoff noted that the model, "at a size 10, is what the fashion industry would — still, surprisingly — call 'plus size.'" And it's true: Despite the fact that the average American woman is a 14, and most retailers designate plus-size clothing as starting at size 12 or 14, fashion models above a 4 or 6 find themselves hovering close to the plus-size label.
But the Vogue.com story proves not only that "plus-size" is a subjective label; it proves that it's not necessary at all. By showcasing the models with nary a mention of the label "plus-size"; respecting their bodies with simple, stunning, normal lingerie; and, importantly, not pretending the women don't have curves at all (it was a "big boob" shoot, after all), Vogue.com proves that the plus-size label can be ditched for good. 
Hopefully, the rest of the fashion world — other websites included — will take note. Head to Vogue.com to see the rest of the gorgeous photos, shot by photographer Cass Bird.