Investigators Discover Something Shocking About How New Orleans Police Treat Rape Victims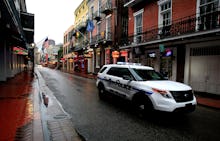 The news: What if you were the victim of a horrible crime and the cops refused to listen?
A biting indictment of the New Orleans Police Department prepared by city Inspector General Edouard R. Quatrevaux alleges that five detectives in the city's special victims unit, a law enforcement division charged with investigating sex crimes, did just that for more than three years. Out of hundreds of reported sexual assaults in the city, just a handful ever resulted in proper investigations, let alone convictions.
How bad was it? New Orleans might as well not have had a special victims unit in the first place. As the New York Times reports, just 14% of the 1,290 sex crimes reported to the five detectives over the course of three years ended up being properly followed up on. 840 were improperly filed as "miscellaneous," meaning the detectives declined to do anything at all. Of the additional 450 calls that actually resulted in an initial investigative report, 271 seem to have been immediately dropped afterward.
The report says that the other 179 cases "were the total written investigative product of the five detectives for sex crime-related calls for service for three years." The remainder mostly fell into a black hole; about 65% of the original calls for service lack enough information to be analyzed. The report also says there was no system for supervision of the detectives in question, nor any interest from their superiors in doing so.
In some cases, the detectives' seeming unwillingness to do their jobs meant that horrific crimes went unpunished. One particularly terrible example highlighted by CNN involved a 2-year-old who allegedly contracted a sexually transmitted disease after being sexually assaulted. According to the inspector general's report, the detective concluded that the 2-year-old "did not disclose any information that would warrant a criminal investigation and closed the case."
In another case examined by WWL-TV in August, detectives botched an investigation into the alleged sexual assault of a woman at local bar The Country Club, despite the existence of video evidence. The department similarly failed to find out who put up posters bearing the victim's face with the words "NO EVIDENCE OF RAPE!" written around it in the neighborhood surrounding the bar.
Why you should care: For three years, reporting a sex crime to the New Orleans Police Department was basically a guarantee that nothing would be done. The harsh reality is that many women across America expect similar treatment from the cops following a sexual assault, and events like these just add credence to those fears. As Al Jazeera America's Claire Gordon wrote about a Columbia University assault case:
Many of those who learned about her story asked her the same question — to her face and on Facebook: Why didn't you just go to the police?
As many as 400,000 untested rape kits are collecting dust at police departments across the country, including an egregious incident in 2009, when Detroit police discovered 11,000 rape kits in an abandoned warehouse. In Memphis, Tennessee, police failed to test about 12,000 kits and discovered hundreds more in a storage facility. University of Kansas law professor Corey Yung analyzed federal data and found that while all police departments were likely undercounting, 22% of the 210 departments in his study demonstrated "substantial statistical irregularities in their rape data."
The perception that police simply won't do anything causes real damage. Nationally, it's estimated that between 60% and 80% of sexual assaults go unreported. The Rape, Abuse and Incest National Network reports that less than a quarter of submitted reports result in an arrest, of which less than half will result in a felony conviction.