Senate Democrats Are Betting on a New Savior: Elizabeth Warren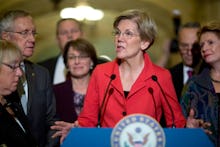 These days, the Democrats suffer from want. Want of seats in the House and Senate, which they lost in a bloodbath. Want of better polling numbers for President Obama, whose support is strikingly low for key constituencies. Want of anything that will increase their standing in the eyes of the public, who disapprove of the party more than they have in decades. 
In a bold and unexpected move intended to ease their want, they're betting on liberal lion Sen. Elizabeth Warren.
On Thursday the popular left-wing senator was named strategic policy adviser to the Democratic Policy and Communications Committee, a new, custom-tailored leadership position in the Senate Democratic caucus.
The role means she will be sitting in on weekly leadership meetings, have input on policy and messaging and will liaise with progressive groups, according to the Huffington Post. The move was announced after private talks with incoming Senate Minority Leader Harry Reid, who was eager to increase her profile in the Senate.  
"As Elizabeth Warren advocates for big ideas like reforming Wall Street, making college affordable and expanding Social Security benefits, her voice will now be even louder — because she'll be at the Democratic leadership table," the Progressive Campaign Change Committee said in a statement. The organization has championed Warren and her causes for years.
The move signals a new direction for a party that has consistently had power coalesce around its more moderate and conservative elements. Warren has played the role of gadfly with the party for years, so giving her greater institutional power and responsibility is a remarkable gesture — one which can be read in a number of different ways.
The most straightforward implication of Warren's position is that she will help reignite and mobilize a widely disappointed progressive base. But there are also questions about whether entrenching her more deeply in the party apparatus will quiet nationwide calls for her to run for the president, or temper her status as firebrand agitator. 
Hillary Clinton, the front-runner among potential presidential candidates for the Democrats in 2016, is vulnerable to an attack from the left, and Elizabeth Warren represents her greatest weaknesses on that front. Warren's new position both breathes much-needed life into the party and potentially reins her in. It will be interesting to see if Warren changes her tune at all in the coming year.