What Every Musician Should Learn From the Greatest Live Performer of Our Generation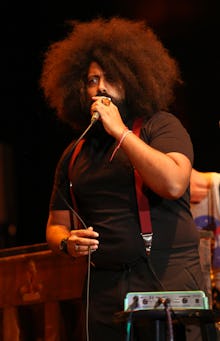 You may not know the most talented live musician of our generation, and if you did, you might think he is a comedian. Reggie Watts is a comedian, but he's fundamentally a musician. Specifically, he's the most talented live performer of our generation.
The reason? Every single thing he does is improvised. And it's always unbelievably brilliant and catchy.
Born Reginald Lucien Frank Roger Watts in Germany, the bushy-haired artist moved to New York in 2003 to explore stand-up. He soon found his unique musical comedy style, and it's been his focus ever since. 
Music had been an integral part of his life, having started piano and violin lessons as early as age 5. He began playing improv concerts and attracted fanatical fans among some of the most influential people in music and comedy. He headlined for Conan O'Brien, performed on the late night shows, landed a co-host/band-leading gig on IFC's Comedy Bang! Bang! and had a featured appearance at the last ever LCD Soundsystem concert. He's managed to develop an incredibly devoted fan base, while maintaining an inexplicable anonymity and total creative control.
In that way, he's completely different from almost every noted live act today. Gigantic acts like Justin Bieber, U2, Miley Cyrus and the infallible Beyoncé can easily fill 20,000-seat venues, but they do so by presenting heavily choreographed shows. U2 is noted for constructing the biggest ever live set, the "Claw" behind the 360 Tour that grossed nearly $1 billion. Queen B's shows are filled with intensely choreographed dances and pyrotechnics. And the Cyrus Bangerz tour has been carefully plotted to elicit as much shock as it can. 
Watts happily assumes the role of the anti-pop star, playing to his two biggest strengths, musicianship and improvisation, to make each and every set a totally new and unreplicated experience for the crowd. Through this steadfast commitment, he's a welcome breath of originality in the all too stale and pricey world of live performance.
Watts has quietly carved out his own specific type of fame through festivals, clubs and millions of hits on YouTube, and there's no end in sight. He's content with his place in the industry, though he's cautious of the hyperbolic acclaim that comes with being a musical celebrity. "I'm very suspicious of people that are celebrated as original," he told Vice.
But few words better describe the mix of his four-and-a-half octave range, masterful beatboxing and virtuoso piano melodies. He tells each audience a different story. His process, though, is straightforward. 
"It keeps me on my toes, it keeps me entertained. I don't like the feeling of having to remember something," he told CBC's Jian Ghomeshi in June. 
In an interview with the Believer, Watts said, "There's no logical narrative [in my performances], and usually I'm looking for things that are very disparate, so that I'm making sense out of nonsense."
"Basically, I look at how much time I have and just kind of go for it," he told the AV Club. 
He moves from hip-hop beats to Ben Folds-esque refrains in the blink of an eye. When the music stops, he'll assume a British accent to talk astrophysics. Then he'll speak in the whiny timbre of a tween named Claire. And seconds later, he's embodying the cadence of a smooth-talkin' Isaac Hayes soul singer. Watts is the Muhammad Ali of improv. He bobs and weaves around the stage and strikes in flurries, hitting the ears when least expected.
"I believe that chaos will often provide more interesting results than things that I can preconceive beforehand anyways," he said in July. "I like surfing the chaos."
The Afro-ed, suspendered face of live music is always ready for his next set. Nobody has seen what comes next. Watts guarantees it.