Watch What Happens When a Photographer Secretly Taps into Public Surveillance Cameras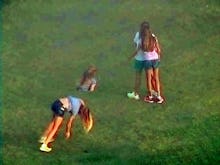 Andrew Hammerand has been watching you.
A photographer and artist, Hammerand used a publicly accessible networked CCTV camera in an anonymous Midwestern town to let viewers spy on unknowing citizens. The result is "New Town: Watching a Midwestern Town With Their Own Camera," an artistic representation that gives viewers a glimpse into the expanding modern surveillance state and elicits questions about surveillance and privacy.
The project emerged by chance. In 2008, Hammerand discovered that many of the Internet-connected devices — cameras, cellphones and televisions — did not have password protections, which made them accessible to virtually anyone online. Hammerrand eventually tapped into security cameras at places like parking lots and malls, he told Mic. 
In 2013, her found a vantage point, which had a bird's eye view of a town as seen through the lens of a CCTV camera attached to a cell phone tower perched atop a church.
"I found the URL through Google search," he told Mic. "There was one camera in a specific town, which gave a panoramic vantage point of the entire community. You could pan, zoom in to a street lamp and adjust the exposure."
"I didn't hack into anything because this is accessible to the public," he added. The camera was a project of the development firm selling real estate in the town, where potential buyers can take a real-time virtual tour.
The camera also allowed Hammerand to zoom in for an even closer look at the community. After watching their daily lives unfold inside white picket fences and on sidewalks, he noticed patterns: A man who worked at a barbeque shop smoked ribs every Sunday, a woman who lived near the church where the camera was perched left at a certain hour in the morning. 
Some faces are fuzzy, projecting an anonymity — that this could be anyone in the thousands of suburban areas across the United States.
It could be anyone. To emphasize the fact, Hammerand refuses to name the Midwestern town. He also made an effort to hide license plates and specific home addresses. 
"Were'e heading towards a globalization of technology where every device is connected and can be accessed with networks," Hammerand said. "This represents any small town in America, a surveillance that's happening at an international level."
And that's exactly what he's doing: Giving the surveillance state a face. The issues of privacy and surveillance have weighed on Americans since Edward Snowden pulled back the curtain on the NSA's domestic surveillance in 2013. A recent Pew survey found 80% of respondents believe Americans should be concerned about the government's monitoring of phone calls and Internet communications.
Hammerand wants to take the abstract, faceless surveillance state — what Americans envision as faceless bureaucrats hunched over computer screens — and physically illustrate its intrusion into our daily lives.
The files disclosed details of mass surveillance, including the gathering of metadata on phone calls through partnerships with wireless phone carriers, secret treaties with the United Kingdom and France to pave the way for wiretappings and, like Hammerand's artistic experiment, seemingly omniscient 360-degree views of cityscapes and communities.
"New Town" is part of the exhibit "Watching You, Watching Me," at the Open Society Foundation in New York City presenting similar work from photographers and artists. As NSA's programs continue to seep into everyday life, more artistic representations like Hammerand's will paint a picture of life in the Surveilled States of America.