Nancy Pelosi Blasts the Media for Sexist Questions About Her Future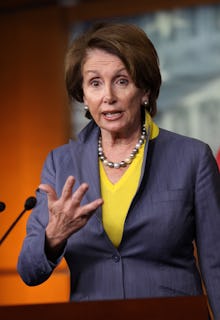 Women in politics often get questions that the men are never asked, namely about their appearance, their family life and their age.
It was in this context Rep. Nancy Pelosi (D-Calif.), the House minority leader, decided that questions about her leadership abilities were actually questions about her age and gender.
In a news conference on Capitol Hill, Pelosi was asked "if you gave any thought to stepping down as the leader and what you thought about when you decided to stay on."
Pelosi, who is 74, took this as a veiled attempt to question her age and leadership abilities as a woman and shot back with an incisive reply:
When was the day that any of you said to Mitch McConnell, when they lost the Senate three times in a row – lost making progress in taking back the Senate three times in a row – "Aren't you getting a little old, Mitch?  Shouldn't you step aside?" Have you ever asked him that question? Have any of you ever asked him that question?  ... It just is interesting, as a woman, to see how many times that question is asked of a woman, and how many times that question is never asked of Mitch McConnell.
This isn't the first time Pelosi has been asked about her future plans. Shortly after the 2012 elections, Pelosi was asked specifically about her age by MSNBC's Luke Russert, who cited fellow Democrats who wondered whether her "decision to stay on prohibits the party from having a younger leadership." She replied by calling the question "offensive." She also noted at the time that similar questions weren't being asked of McConnell.
And she makes a good point. McConnell, who is just two years her junior at age 72, oversaw a similar streak of losses for his party in the Senate, just as Pelosi has in the House. He was never repeatedly asked when he was going to step down.
But lately there has been speculation, even among Democrats, that Pelosi should serve only one more term as minority leader and then retire in 2016 after the presidential elections.
Pelosi's retort Thursday put an end to those murmurs. She emphasized that she's not "here on a schedule," and furthermore the media should rethink the difference between what they ask women and what they ask men.
Although the question asked at Thursday's news conference was specifically in reference to the Democrats' big losses in the midterm elections, Pelosi's retorts about gender and age weren't unwarranted.
Conversations about women's appearance sometimes trump those about their accomplishments. Reporters aren't pausing to consider McConnell's old age, but that seems to be at the forefront for Pelosi.
But whether or not the question was an illustration of that sexism, we all got the main takeaway: Stop asking Pelosi when she's going to retire.