8 Facts Put the Biggest Myths About Sex Toys to Bed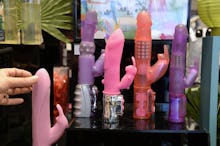 First they were used to medically treat "hysterical" women, then they were euphemistically sold as "massagers." Finally, they became acceptable — but rarely purchased — tools for pleasure. It wasn't until the '90s — around the time Sex and the City introduced us to the Rabbit — that people in the mainstream spoke about sex toys out loud. But these days, it's rare to walk into any pharmacy without seeing a selection of vibrators right next to the lube and condoms. 
And that's the way it should be. 
Worldwide, the sex toy industry rakes in $15 billion a year, with 19.2% of sales being vibrators and 16% being dildos. Fifty percent of women start using sex toys in their 20s. Twelve percent of women use a sex toy at least once a week to masturbate, and, because we know you were wondering, New Zealand is the No. 1 country as far as vibrator ownership goes. Thirty-five percent of Kiwis have at least one in their possession. Whereas only 1% of women in the '70s used sex toys, roughly 53% do now. 
The oldest known sex toy is 30,000 years old, but it took generations for us to feel comfortable talking about them as the discourse surrounding sex toys is often filled with misconceptions, stereotypes and feelings of discomfort. 
But that era is long over. So instead of giggling at the mention of cock rings and Rabbits, use the following tidbits to launch open and honest (and not bashful) conversations. There's nothing to be embarrassed about.
1. Sex toys are for everyone, not just lonely single people. 
One of the most negative myths about sex toys is that they're just for single, or "lonely," people who have no option but to use something with a battery. Wrong. People of all relationship statuses use sex toys. In fact, 78% of women who use them report being in a relationship. They're also not just for straight women. There are plenty of toys out there for same-sex couples, as well as toys for men. 
2. Sex toys make good sex lives better, not worse. 
Another nasty rap and outdated notion is that sex toys are only for those whose sex lives are lacking. Wrong again. A recent study from the Kinsey Institute have found that women who use vibrators are more likely to keep regular gynecological appointments and experience "higher levels of desire, arousal, lubrication, and orgasm." 
Moreover, enjoying sex solo with a vibrator or other personal-use toy doesn't affect one's odds of enjoying sex with another person, as Charlotte from Sex and the City was so worried about. Sex toys enhance, not ruin, sex with a partner.
3. Women not only benefit from sex toys — some women need them.
Getting a woman off is big business, and as women have orgasms only 64% of the time, it's also important business. A 2009 study found that a whopping 75% of women do not orgasm during sex without the assistance of a toy or manual stimulation. The same study also found that 10-15% of women never achieve orgasm at all. 
Toys like vibrators can change that. "I work with a lot of women who have never had an orgasm, and I tell them to purchase and experiment with a vibrator. Most women will be able to have their first orgasm thanks to the steadfast buzzing of their new toy," sex therapist Vanessa Marin wrote in Bustle.
While the female orgasm doesn't serve an evolutionary purpose quite like the male orgasm, it is does have some health benefits that all women need, on top of feeling good, of course. Orgasms are great for stress and depression, they can help lower the risk of breast cancer in both men and women, and even aid in curing the common cold. Orgasms allow women to have control not just over their pleasure, but over their health, too. 
And while all sex toys are made to enhance the already pleasuring experience, certain products and companies really go above in the beyond the call of duty for women's orgasms. Case in point: Alexandra Fine and Janet Lieberman of Dame Products, who have created Eva, the very first strap-free, hands-free vibrator meant to be worn during vaginal intercourse for maximum clitoral stimulation. Thanks to one small device, the wearer can focus on sex with her partner without giving up the opportunity for enhanced pleasure.
4. Sex toys can be be game-changers for couples.
Sex toy company PicoBong drew attention recently for unveiling what it claims to be the world's first "gender-neutral sex toy," the Transformer. While the unisex sales pitch is appreciated, sex therapist Vanessa Marin told Mic this isn't the first toy that can be used by both sexes. 
"The majority of [sex toys] can be used by either gender. Anal plugs and vibrators, restraints, whips, paddles, ropes, clamps, blindfolds and electrostimulation toys are all technically 'gender neutral,'" Marin said. "There are also plenty of couples toys, like the We-Vibe, Lelo Tor, and Jimmyjane Hello Touch that are designed to be used together." 
The versatility of such gender-neutral toys can encourage creativity. "Couples can have fun playing with different configurations and getting creative [with the Transformer]. It can add an element of novelty that most sexual relationships are sorely lacking," Marin told Mic.
5. Getting comfortable discussing sex toys helps us talk about sex.
For some, the very mention of sex toys can make them erupt in an uncomfortable giggle, as if they're 13 all over again. However, as Susan Quilliam found while researching sex toys for the Journal of Family Planning and Reproductive Health Care, bringing sex toys into a conversation, despite the initial giggles they may cause, can reduce shame, guilt or embarrassment that surrounds both the toys and the act. (Anyone who's ever been to a sex toy party has probably seen this phenomenon in action.)
6. Sex toys can aid in sexual dysfunction.
In addition to making what's great in your sex life even better, Quilliam has found that sex toys can also help where there is dysfunction. Women suffering from anorgasmia, for example, when they can't reach orgasm despite "ample sexual stimulation," have been shown to greatly benefit from the use of vibrators and relaxing toys like stimulation feathers and massage oils. Sex toys can also help a man climax even if he can't get an erection. As men age and their parts just aren't working the way they used to, toys can become an essential part of sex.
7. Sex toys can shift the focus in the bedroom for the better.
As Dr. Ava Cadell, certified sex counselor and author of NeuroLoveology, explained to the Huffington Post, toys not only help women derive more pleasure from sex, but they also can help ease some of the self-consciousness women may bring into the bedroom, including insecurities about their bodies. One perfect example: blindfolds.
"It's even better for the ladies to blindfold their men, because that gives women more confidence. I've had so many clients that told me that once they blindfold their lover, they can do things and say things. They're 10 times bolder than they've ever been. It liberates them," says Cadell.
8. No need to be freaked out — there's a sex toy for everybody. 
If you enjoy anal play, then butt plugs and anal beads are great choices. If you're more into BDSM role-play, then floggers and handcuffs are definitely for you. There's even a vibrator, the We-Vibe 4, that you can control with an app on your phone so your partner can get you off even if they're across the globe. And if you want to start easy, the tiny Silver Bullet is a favorite.
And best part about buying a sex toy? You're walking into a store (or website) among others just as curious as you are. For the newbies, it may seem like a harrowing experience, because, as Cadell explains, each person has their own set of fears and insecurities when it comes to sex. But whatever those fears are, they can be shelved long enough to allow yourself the opportunity to see what sex toys are out there and how your own sex life might be improved.
As Claire Cavanah, co-found of Babeland, explained to the Huffington Post, "The only way you know what you like is if you start and experiment." Finding the right toy might be a trial and error process at first, but once you find the one that fits your desires, your inner kink, and gets you off, then you've found a friend for life.
Plus, after a few orgasms, any hang-ups about sex toys you may have had will be long gone.