This Man's Drastic Weight Loss Reveals a Disturbing Consequence of Beauty Standards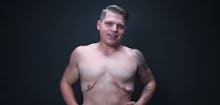 Infomercials have created a multibillion-dollar industry by selling people on the idea that the "perfect body" is only a pill or machine away. But what happens when you stick to an exercise regime, keep food diaries and change your entire lifestyle to meet your body goals? 
One guy found out the hard way that real life doesn't look like a TV before-and-after photo. 
After dropping 160 pounds following many lifestyle changes, John David Glaude did indeed become much stronger and healthier, something his "Obese to Beast" followers have tracked every step of the way. But like so many people attempting to live up to cultural beauty standards, Glaude discovered that insecurities come in many forms. 
In a powerful new video, Glaude reveals that his impressive weight loss resulted in lots of excess skin, creating a whole new reason to feel self-conscious.
"Being really, really overweight, you're obviously really self-conscious about how you look and how people see you," he said in the video. "Losing the weight, I'm not self-conscious at all when I'm clothed; when I have a layer over my skin. I'm comfortable clothed. I'm not that comfortable unclothed."
Glaude's story speaks to the flawed logic that has long propped up the fitness and dieting industries — not to mention major retailers, fashion designers and plastic surgeons — for so long: that people can't possibly live a healthy and happy life with fat on their bodies. Indeed, it's this encouragement toward perfection that leads people to believe they can look just like models on the commercials and billboards. But that doesn't happen for everyone who is overweight or obese, as Glaude's story proves. 
"[My body] is not as perfect as people would like to think," he says in the video. "There's obviously a good amount of loose skin on my arms," he said, noting that he tries to hide excess abdomen skin in his boxers to ease the discomfort. "My legs are probably the worst part about my loose skin. Sometimes, when I wear shorts, you can see them and it sucks."
Glaude could get plastic surgery to remove the excess skin, a possibility often explored by contestants and winners on the hit TV show The Biggest Loser. In an interview earlier this year, season 14 contestant Francelina Morillo said the excess skin from dropping half her body weight was by far the hardest part of the aftermath, so much so that she crowdfunded for surgeries. 
"The skin is a big discomfort to me when it comes to working out, choosing an outfit, and just seeing all the progress that I have made," Morillo said. "I knew when I started losing weight that the skin would be an issue, but I never knew it would be this intense."
Choosing to take this step is up to the individual — everyone has the agency to decide what they wish to do with their bodies. But Glaude said he wanted to make the video to show people that, although he doesn't look the way he imagined, he's finally growing to embrace his body. 
"This is not what I would've wanted after losing 160 pounds. I wanted to have a perfect body and that's not the case. But that's OK," he said. "My dream is to be very happy in my skin, and I am. Loose skin and all, I'm happy with where I've come from, and where I am at now. This is not the end."
Glaude is not alone in this journey, of course. In an article for New York magazine, author Alexandria Symonds highlighted that the journey from "before" to "after" might be life-changing, but it doesn't necessarily translate into the intense satisfaction that some TV shows and commercials would have everyone believe.
Baring his latest insecurity for the world to see, Glaude's story should prompt everyone to question their health and body goals, and be realistic about what they wish to accomplish, before buying into various beauty myths about body image. 
"Obviously, I'm not walking around the beach with my shirt off, but it's not going to stop me from going for my goals and reaching my full potential," he said. "This is who I am and I'm proud of it."
h/t Huffington Post