5 Photos From Obama's Trip to Asia You Probably Didn't See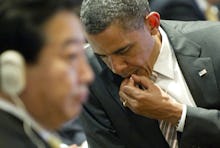 "Latte salute," meet the gum-chewing freakout taking over some American news outlets and the social media feeds of Chinese bloggers.
President Barack Obama's ongoing diplomatic sprint in Asia — where he signed a historic climate treaty with China, helped defuse maritime territorial disputes and moved forward a global trade agreement — have been buried under facile criticism of... gum-chewing.
On Wednesday, as the president exited his vehicle to attend a banquet and cultural show ahead of the Asia Pacific Economic Cooperation summit, live television coverage on China's top state-run channel captured him chewing on a piece of gum. Obama quit smoking cigarettes in 2007, and has been a well-known user of smoking-cessation gum Nicorette during his presidency.
Chinese social media users immediately characterized Obama as an impolite "idler" or careless "rapper." The comments were made and restricted to Sina Weibo, the Chinese version of Twitter. "We made this meeting so luxurious, with singing and dancing, but see Obama, stepping out of his car chewing gum like an idler," wrote Yin Hong, a professor of journalism at Beijing's Tsinghua University, on his Weibo account.
But American news outlets took the bait as well. The Washington Post called the move "gumchew diplomacy," writing that "it's difficult to find a larger advocate of gum-chewing than the president." The Blaze noted that the president has struggled with smoking throughout his life, while USA Today observed that the "rude one, in the eyes of some Chinese Internet users, was the most prominent guest."
These stories not only demonstrate a lack of understanding of China's social media ecosystem, which is heavily censored by the Chinese government and is often used to front for the ruling communist party, but also show a fickle attention to ridiculous details rather than policy.
As the Internet flips out over gum-chewing, they are missing what's actually happening on this historic trip. Here are five images you probably didn't see:
The president joined other world leaders for a tree-planting ceremony in Beijing Nov. 11, the same day he announced a climate treaty with Chinese President Xi Jinping. The ambitious agreement caps carbon emissions from the two largest emitters, paving the way for an international agreement in Paris next year. 
Top U.S. envoys claim that Russia is brazenly violating the peace process in Ukraine. Amid tensions between the U.S. and Russia, the president took a moment during APEC to speak with Russian President Vladimir Putin on the sidelines.
The president arrived in Myanmar on Friday to affirm his support for the country's "opening to the West." He embraced and kissed Myanmar's opposition leader Aung San Suu Kyi, the popular pro-democracy icon who emerged from house arrest and onto the political front lines against the military junta.
Casual meetings with Xi helped pave the way for collaboration, including a visa agreement that extends Chinese student visas to five years and business and tourist visas to 10. The pact was an effort to improve economic ties between the two nations.
The president brought the town hall-style meeting to Myanmar's capital, Yangon. He spoke to college students and met with political icon Aung San Suu Kyi to speak about the country's pivot towards democracy and unresolved issues, including the displacement of the Rohingya Muslim minority.