Turns Out Pope Francis Has Amazing Taste in Music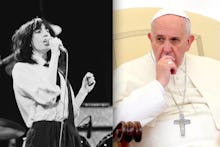 The reasons to love Pope Francis keep rolling in.
The Holy See announced Friday the lineup for the Vatican's annual Christmas concert, and one name in particular stood out: Apparently, Francis requested the "Godmother of Punk" and outspoken social justice advocate Patti Smith.
It's a surprising choice, considering the fact that one of her most famous lyrics is "Jesus died for somebody's sins — but not mine." Many in the Catholic community have been attempting to stop her from performing at other events for the Catholic Church on those grounds, accusing her music of being "blasphemous." But it doesn't look like that's going to happen now that she has Pope Francis behind her.
Smith grew up in a religious family but does not identify as Catholic. But she includes a tremendous amount of religious imagery in her work — obviously not always in the most canonical of ways — but beneath her iconoclasm, she exhibits a deep admiration for the Catholic Church's core values and its dedication to creating a more just and peaceful world. 
"The person who did this really understood how Catholic imagery and atmosphere is woven into Patti Smith's work; and the life or death urgency her work represents — it's about salvation and redemption," Rolling Stone contributing editor Anthony DeCurtis said. 
Smith has spoken very highly of Francis in recent years. Smith said he was "very interesting" and that she "liked him a lot" when the two met in St. Peter's Square last year. She praised him for choosing to name himself after St. Francis of Assisi. The singer said the saint represented humility, the renunciation of materialism and a love of nature.
The mutual admiration between Pope Francis and Smith is yet another sign that things are changing in the Vatican. Pope Francis has already made strides in helping the Catholic Church become more welcoming and inclusive. He relaxed the church's stance against homosexuality, firing bishops who he felt did not represent the church's core values of love and acceptance. He also recently suspended the "Bling Bishop," whom he accused of squandering the church's funds on lavish expenses. In doing so, Francis encouraged the rest of his clergy and the leaders of the world to adopt a humble persona.
Smith, too, has dedicated a lot of her own career to decrying the evils of exploitative capitalism, homophobia and hate. She takes a far different tone than Pope Francis most of the time, but the two are kindred spirits. Pope Francis knows what's up. He recognizes the people who really share his religion's values. 
Thanks to Pope Francis and Smith, this Christmas is going to be the most awesome, inspiring and life-affirming Christmases the Vatican has ever had.
h/t Pitchfork