Duck Dynasty Is Coming to the Last Place You'd Expect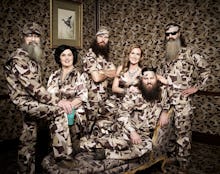 Lovers of the bayous, rejoice! The rest of us, cry. The A&E reality television cash cow Duck Dynasty is being turned into a musical. The stage treatment will be called The Duck Commander Family Musical, telling the rags-to-riches story of the Robertson family, which made it big making products for duck hunters. The show will open in February at the Rio All Suite Hotel and Casino in Las Vegas.
For those unfamiliar with Duck Dynasty, the show follows the antics of the Robertsons, a Louisiana family known for their strong Christian beliefs. They also run Duck Commander, a huge duck-hunting merchandise manufacturer that had $40 million in revenue during 2012. The long-bearded men are often decked out in camo gear and muddy boots, and the women embody swamp chic. At the end of each episode, the family sits around the dining table with patriarch Phil blessing the meal.
Although taking preexisting properties to the stage has worked out well before (Legally Blonde, Matilda), there's already pushback against the show. Phil Robertson was at the center of a controversy after making anti-gay remarks in a 2013 GQ interview:
"Start with homosexual behavior and just morph out from there. Bestiality, sleeping around with this woman and that woman and that woman and those men."
A&E temporarily suspended Robertson from filming, but gave in to public pressure to bring him back on air after a measly nine days. Duck Dynasty is hugely profitable for the network — 11.8 million viewers tuned in to the show's fourth season premiere, making it the most-watched nonfiction cable series in history.
Some in the theater world who aren't too happy with Michael David, who produced the blockbuster Jersey Boys, for developing The Duck Commander after the controversy. Apparently David had signed on to the project before the incident and is planning to address it in the production.
Award-winning theater producer Emanuel Azenberg told the New York Times, "It's pretty disgusting, but it's also a reminder that Broadway is mostly about making entertainment today — not art — even if it means getting involved with a family whose members say things that offend a lot of people working on Broadway."
People have also shared their feelings on Twitter, even joking about the outlook for the musical.
LGBT rights advocates probably won't support seeing the musical, at least without major changes to the original material. At the same time, the very religious may not be the primary audience for the production either — Las Vegas is known as "Sin City" for a reason.
But if the reality show's huge success is any proof, pulling off a stage adaptation wouldn't be the most unexpected thing to happen to the Robertsons.
h/t Vulture