Another Major University Has Banned Frats After a Series of Disturbing Incidents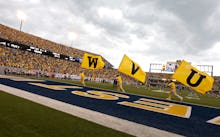 Another day, another university suspending Greek life in what has become a trend of shocking on-campus incidents. This time it's West Virginia University, which has put a stop to all fraternity and sorority activities indefinitely after a medical emergency and a series of arrests.
In the most recent incident, an 18-year-old student was in critical condition Thursday after collapsing at the Kappa Sigma house. According to NBC News, when emergency personnel arrived, the male student wasn't breathing and did not have a pulse. NBC reported Friday afternoon that the student had died.
That wasn't the only incident, though. The incident comes on the heels of another fraternity's night out that ended with 19 pledges in trouble with law enforcement.
The university suspended its Sigma Chi chapter last week after 19 pledges were arrested or cited for alcohol possession following a 1:30 a.m. street brawl, according to NBC News. To make matters worse, the pledges reportedly told authorities they were members of a different fraternity, which could mean obstruction of justice charges.
While normal activities for Greek organizations on campus can be reinstated, the West Virginia University has no specific timeline. 
"Any pledging and new member activity is suspended indefinitely," dean of students Corey Farris told the Daily Athenaeum, the school's student newspaper. "Certainly through the end of the semester and then the beginning of next semester we'll see where we'll go. ... Right now it's time for a pause to take a look at things quite honestly."
Schools are starting to take action. Johns Hopkins University suspended a fraternity and banned all open fraternity parties last week after a 16-year-old reported being raped at one such party. (The suspects are not believed to be students at the school.)
At MIT, the university banned any fraternity party of more than 49 people, while Amherst College went a step further earlier this year and banned Greek life entirely. Wesleyan University forced fraternities to go coed in a controversial move in September.
There are questions about whether banning fraternities or fraternity parties will stop unsafe behavior or move it off campus, but the numbers tell us that Greek life does tend to play a big role in sexual assault on campus. At the University of Oregon, for instance, a study found that about 38% of women in the Greek system were victims of at least one attempted or completed rape, compared with 15.3% of women outside it.
Schools are no doubt more concerned about student safety following the Department of Education's Title IX investigation, which listed 55 schools as being under investigation for mishandling sexual assault cases. When high-profile catastrophes like those at West Virginia occur, suspension is a easy decision for the school administration to make.