A TV Anchor's Sexism Experiment Is All You Need to Know About Double Standards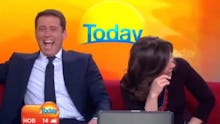 About a year ago, Karl Stefanovic, host of the Australian television show Today, decided to conduct an experiment. He wore the same exact blue suit, a Burberry knock-off, on air, first for two days in a row, then three days, then a month and then he just didn't stop. 
And what happened? Nobody noticed.
The point, he said, was to highlight the sexist double standards that exists between men and women in the workplace, especially in the world of television and broadcast media.
"I've worn the same suit on air for a year – except for a couple of times because of circumstance – to make a point," he told the Australian newspaper the Age. As a man, he's judged on his work, not his appearance, but women don't get that courtesy; a woman's appearance is fodder for just about everyone.
"I'm judged on my interviews, my appalling sense of humour – on how I do my job, basically. Whereas women are quite often judged on what they're wearing or how their hair is ... that's [what I wanted to test]," he said.
The stunt was prompted by frustration over how his female friends and co-hosts were treated by audiences. In 2013, his colleague Lisa Wilkinson delivered a lecture on women in the media and noted that she receives unsolicited comments from readers on how she dresses. ("Who the heck is Lisa's stylist?" read one such remark. "Today's outfit is particularly jarring and awful. Get some style.")
Likewise, when the Daily Telegraph ran a bizarre story on a rival TV host and close friend Samantha Armytage's errand-running outfits, Stefanovic wasn't pleased. "She's a mate and she was hurt by that," Stefanovic said. "And I can understand. You've got to have a thick skin in TV but there's a limit."
His point is well taken. Stefanovic is known for his prankster antics and "appalling sense of humor," but it doesn't mean he can't make a serious point about sexism in the workplace. 
As Junkee's Meg Watson writes, "Though men's suits are admittedly more difficult to tell apart than the varied cuts and styles of women's usual dress, he's got a point. The fact no one noticed proves that no one really cares. And, while that's totally fine — there's no real reason we should care what the host of a daily news-peppered infomercial chooses to put on his body — that standard should be applied across the board."
It's not just Australia, either. In Turkey, a TV presenter was fired for wearing a shirt that higher ups deemed "unacceptable." And in July, American meteorologist Julya Johnson received a letter from a viewer who complained that "Those high Bodice dresses are Not (for) you. Do you Have any dress or dresses that don't fit snugly under your (Bust)? Please!" 
Stefanovic told the Age that only he, Armytage and Wilkinson were aware of the suit repetition. Now, however, the story is out — and with it, a high-profile reminder that, yes, women do experience wildly different treatment than men, even in the professional arena.