The Four Countries McDonald's Couldn't Conquer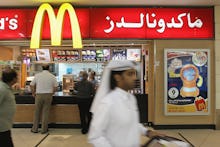 In case you hadn't noticed, McDonald's is taking over the world. With more than 35,000 restaurants around the globe, the Golden Arches have firmly planted themselves in more than 100 countries. But despite McDonald's efforts to cater to the local population, like with the spicy paneer wrap in India or the teriyaki McBurger in Japan, many countries are simply not "lovin' it." 
Here are some of the only countries that have resisted an invasion from Ronald McDonald and his pals:
Bermuda
When a U.S. military base withdrew from the popular vacation destination in 1995, the local government immediately voted the McDonald's franchise off the island.
The company constructed its restaurant in the military base in 1985, ignoring Bermuda's Prohibited Restaurants Act 1977, which bars foreign franchises from the island. The McDonald's restaurant was purportedly "for the troops," but eventually thousands of Bermudians started dining at the establishment.
In 1999, McDonald's attempted to enter the country again, but protests and more laws banning franchised restaurants in the country halted construction of the restaurant. Bermuda also bans billboards and neon signs, which are practically staples of the franchise.
Bolivia
Unlike Bermuda, this Latin American country did not need to pass laws to ban McDonald's fast-food chains. Collectively, Bolivians chose to make wiser food choices. Many Bolivians saw that the meals were prepared cheaply and haphazardly. Although the corporation tried to turn a profit and win over the population for 14 years, it eventually conceded and abandoned its posts in the country by 2002.
After the closure of restaurants in the major cities of La Paz, Cochabamba and Santa Cruz de la Sierra, Bolivia became the first McDonald's-free Latin American country.
Iceland
Economic collapse is one way to motivate McDonald's to leave a country. When the country's economy fell apart in 2009, all McDonald's in Iceland faced severe hurdles to potential profits. Besides that fact that people were cutting back their spending, Icelandic McDonald's already faced the challenges of remoteness, which increased operating costs like a steady supply of beef and vegetables. Sixteen years after it first arrived in the Land of Fire and Ice, McDonald's shuttered it doors and said it had "no plans to return."
North Korea
The now-deceased Kim Jong-il may have had one last taste of a McDonald's burger before he passed away in 2011. While six million North Koreans faced starvation, the authoritarian leader defied international sanctions and used a state airline to procure luxury goods and McDonald's burgers.
Foreign companies are not allowed to operate in the Hermit Kingdom, but for the ruling elite, the ban and international sanctions do not deter special deliveries of Big Macs.