The Bill Cosby Rape Allegations Are Getting Noticed — But He Only Has One Response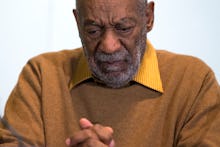 Silence. 
In an interview with the NPR program Weekend Edition that aired on Saturday, comedian Bill Cosby had absolutely no response when asked about the rape allegations against him. 
Cosby and his wife Camille were set to appear on the show to discuss their collection of African American art, but host Scott Simon also used the opportunity to address the accusations. The interaction starts around the 3:30 mark:
NPR provided a transcript of the interview, and seeing it in writing drives home just how bad the interaction was: 
SCOTT SIMON: "This question gives me no pleasure, Mr. Cosby, but there have been serious allegations raised about you in recent days."
BILL COSBY: [SILENCE]
SIMON: "You're shaking your head no. I'm in the news business. I have to ask the question. Do you have any response to those charges?"
COSBY: [SILENCE]
SIMON: "Shaking your head no. There are people who love you who might like to hear from you about this. I want to give you the chance."
COSBY: [SILENCE]
The allegations, made by some 13 women, are nothing new — they first popped up a decade ago, and again in 2005 when one of the women filed a lawsuit against Cosby. But the story received renewed attention in October, when comedian Hannibal Buress addressed the accusations during a routine in Philadelphia. "People think I'm making it up," Buress told his audience. "That shit is upsetting. If you didn't know about it, trust me. You leave here and Google 'Bill Cosby rape.' It's not funny."
Cosby is seeing significant pushback. The Buress routine has effectively shoved Cosby back into the spotlight, and people are taking notice. An upcoming appearance on the Late Show with David Letterman was also just cancelled, though it's unclear whether Cosby or the Late Show cancelled. This also comes after he declined to appear on Queen Latifah's daytime talk show.  
On Monday, Cosby — or someone from his team — made the mistake of asking the Internet to "meme him," which quickly turned into a takedown of epic proportions. Twitter users posted photos lambasting Cosby for his alleged behavior, with captions like "Define 'drugged'" and "More than two dozen women have accused me of rape."  
Then, on Thursday, Barbara Bowman, one of Cosby's accusers, published a piece in the Washington Post detailing her own experiences with the actor. While she brought up a separate, troubling but ultimately excellent point — that it took a male comedian saying something before anyone paid attention — she also noted that the case was finally receiving the public attention it deserved.
Still, Cosby has said nothing. As the NPR interview only further illustrated, Cosby has remained willfully silent about everything. His representatives refused to say why he cancelled his Late Show appearance, and they did not respond to requests for comment for Bowman's Washington Post piece.
It's unclear why they have yet to address the matter. As Bowman pointed out, "I have never received any money from Bill Cosby and have not asked for it. I have nothing to gain by continuing to speak out. He can no longer be charged for his crimes against me because the statute of limitations is long past." 
What is clear, however, is that Cosby's continued silence is doing the exact opposite of what he wants. He may not be saying much, but in this case, silence may be louder than words.