The World Is Running Out of Chocolate — But Scientists Have a Plan to Fix That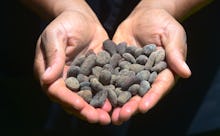 It's official. We're consuming way more chocolate than we're making, adding to the longest streak of production shortfalls in more than 50 years.
The world ate an estimated 70,000 metric tons more cocoa than it produced last year, the Washington Post reports. Meanwhile, two of the world's largest chocolate manufacturers — Mars, Inc. and Barry Callebaut — warned that by 2020, the amount of chocolate we consume could balloon to 1 million metric tons, a 14-fold increase. By 2030, the chocolate deficit could reach 2 million metric tons.
So what's the problem? Well, unfortunately farmers can't just grow more chocolate. A number of issues are putting a strain on cocoa farmers, ranging from a severe drought in West Africa, demanding new markets like China where sales have more than doubled over the past decade and diseases, like frosty pod, that have wiped out 30-40% of global cocoa production, according to the International Cocoa Organization.
The outbreak of Ebola in West Africa is also an unprecedented culprit in deterring production. The two countries that produce more than half the world's cocoa, Ivory Coast and Ghana, border Ebola-affected Liberia and Guinea. Ivory Coast sealed its borders with Liberia and Guinea, shutting out migrant workers tasked to pick cocoa beans that go into M&Ms, Snickers Bars and Hershey's Kisses, Politico reports.
"The price made the move to three-year highs in response to the Ebola crisis, on fears that it could spread into Ivory Coast and Ghana," Jack Scoville, a senior market analyst at Price Futures Group, told NPR.
What is there to do? To start, the Ivory Coast is planting new hybrid plants called mercedes, which produce more cocoa than average crops. Additionally, a batch of newly introduced strains, the most renowned of which comes from Ecuador, are seeping into the cocoa culture. One breed named CCN-51 is resistant to the frosty pod fungus and produces roughly seven times more beans than its traditional Ecuadorian counterpart
But there is one major trade-off: taste.
The C-spot, a website that ranks the taste of chocolate products and publishes flavor profiles of cocoa varieties, described CCN-51 as "weak basal cocoa with thin fruit overlay; lead and wood shavings; astringent and acidic pulp; quite bitter."
The C-spot's ranking is backed by Ed Seguine, a Mormon grandfather from Hanover, Pennsylvania who "possesses one of the most sensitive and sought-after palates in the industry," according to Bloomberg News. Seguine has consumed more than 300,000 chocolate samples and is so worried about the likely erosion of flavor that the former Mars Chocolate Fellow has dedicated the rest of his career to preventing it. Seguine's take on CCN-51: acidic dirt.
"If we're not careful, we could accidentally breed flavor out," Seguine told the Mars fellows program. "That is not the Mars way — our first principle is quality, and flavor is key to quality in cocoa."
As farmers improve the taste with various hybrids, chocolate-lovers may not mind a milder flavor so long as it keeps supply flowing and prices affordable. But the chocolate, as Seguine has tasted, is a product that's as tasteless as much of today's mass-produced food.
In addition to the continued push for more reliable and better tasting hybrids, organizations like the World Cocoa Foundation, a non-profit that aids small cocoa farmers, are working with major producers such as Godiva and Mars to helped farmers in the affected areas.
But as long as demand continues to rise (and given China's tremendous growth over the past decade that will likely continue, this will be an issue) and supply channels take various hits, our global chocolate supply may be in serious danger. Science is on the case, but you should probably stock up on the good stuff, just in case.