Inside the World's Most Bizarre Brand-New Museum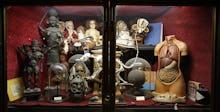 Shrunken heads. Tiger skeletons. Celebrity feces.
These are just a few of the bizarre items on display at the Viktor Wynd Museum of Curiosities, Fine Art & Natural History, an unusual new collection that opened last week in London. Owned and curated by artist and collector Viktor Wynd, the small museum contains, as Getty Images photographer Peter Macdiarmid puts it, "an eclectic mix of anything and everything that Viktor has taken a liking to."
The museum is both a tribute to the eccentricities of bygone eras and a commentary on the slick efficiency of consumer culture. "It's an attack on the Ikea society and cleanliness, modernity and tidiness," Wynd told the Evening Standard. "I want to live a Victorian life surrounded by exquisite clutter."
The museum features the feces of deceased pop star Amy Winehouse, the skeletons of two-headed animals and prints by Pablo Picasso. The Evening Standard's Louise Jury reports that Wynd claims his new museum is "the first all-encompassing repository of fascinating wonders to open in London since the Horniman Museum in Forest Hill in 1901."