'SNL' Captures the Hellish Aftermath of New York's New Marijuana Laws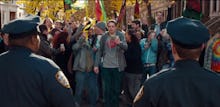 Leave it to Saturday Night Live to remind us how a new law actually works.
When New York City mayor Bill de Blasio and New York Police Department Commissioner Bill Bratton announced last week new laws that would relax marijuana laws in the city, people were overjoyed. Rather than an almost automatic arrest, possession of up to 25 grams of marijuana in New York City could now result in nothing more than a $100 fine. 
Unsurprisingly, many New Yorkers were quite excited about the news, but as this SNL clip from Saturday night's episode demonstrates, it's not exactly what some people might think. 
Nailed it. Though the new law does go a long way to make the lives of pot-users more law-abiding, it's hard to imagine that New York actually passed a law allowing people to freely light up in public — mostly because they didn't (that can still result in prison time).
So this is OK:
But this isn't:
And that's probably alright and mostly expected. Considering how you can barely smoke a cigarette anywhere in New York, it's not that surprising that the NYPD didn't actually legalize publicly smoking what is still technically a Schedule I illicit substance. 
Nevertheless, the recent New York law-change is surely a major win for marijuana supporters who will no longer have to live in constant fear of going to jail for possessing a small baggy of something that's continuously proven to not be dangerous and actually have numerous health and medical benefits. 
But a major win in what's been a steady yet uphill battle doesn't just mean pot smokers can light up wherever they want. Maybe in a couple years though ... we'll see what SNL does then.