Science Reveals a Potentially Groundbreaking Medical Use for Marijuana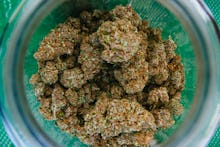 The news: While a number of marijuana's potential health benefits have been repeatedly documented for years, scientists and doctors are still continually exploring the possible medical applications of cannabis. Now, new research suggests that cannabis extract can have a "dramatic effect" on brain cancer.
A team at St. George's, the University of London has just made another breakthrough in determining that tetrahydrocannabinol and cannabidiol, two of the 85 known chemical components found in marijuana, may be able to dramatically slow the growth of cancerous brain tumors. Brain tumors are one of the most difficult cancers to effectively treat, with a survival rate of just 10% after five years.
To combat this disease, the St. George's team tested the treatment of brain tumors in mice using either cannabinoids alone, irradiation alone or a combination of the two (as well as a control group of no treatment whatsoever). When combining THC and CBD with irradiation treatment, the growth of the brain tumors drastically slowed down to the point at which, according to the study, growth "effectively disappeared."
A classic combination: Senior Research Fellow Dr. Wai Liu and his team were especially impressed with how effective the THC-CBD combination was in fighting the cancer cells.
"We think this is due to the different pathways that these cannabinoids hit," Liu told Medical Daily in an email. "Specifically, THC works via receptors, whilst CBD may not need them; consequently, using them together results in a 'priming' effect in tumor cells, making them more sensitive to the 'cell killing' effects of  irradiation."
Liu also noted that the specific combination of THC and CBD was so effective that only a small amount of each was needed for effective treatment. The team is now in the process of discussing human clinical trials, which, given the success in the mice tumors, could hold very exciting results. 
"The benefits of the cannabis plant elements were known before but the drastic reduction of brain cancers if used with irradiation is something new and may well prove promising for patients who are in gravely serious situations with such cancers in the future," Liu told Science Daily. 
"In some cases, the tumors effectively disappeared in the animals. This augurs well for further research in humans in the future," Liu added. "At the moment this is a mostly fatal disease."
A needed discovery: According to Cancer.net, an estimated 23,380 American adults will be newly diagnosed with cancerous brain and spinal cord tumors in 2014, while an estimated 14,320 American adults will die from the diseases this year. Meanwhile, in the U.K., where the study was conducted, Science Daily reports that brain cancer kills about 5,200 people every year. 
Clearly, with such devastating figures, it's not surprising that Liu's team was so eager to tackle this challenge. Given their promising findings, it may just be a matter of time until every brain cancer patient is combining irradiation with medical marijuana for the most effective treatment.