Watch Japan's Super-Fast Levitating Bullet Train Hit 300 Miles Per Hour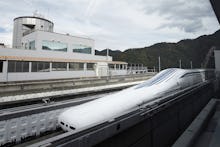 The bullet train of the future is here.
And here's what it looks like when the train rolls on by:
The maglev trains — which use magnetic levitation to "float" above tracks — are even faster than Japan's famous bullet trains, which currently travel at about 200 mph. And while China currently possesses some of the fastest trains in the world (and has invested the most in high-speed rail), Japan is looking to surpass China with maglev trains like the one tested this weekend.
The BBC notes this weekend's voyage was just a test: Central Japan Railway Company is running eight days of testing for the experimental maglev train on its test track in Yamanashi Prefecture.
If all goes according to plan, a longer stretch of track for the new train will be completed by 2027. "When completed in 2027, their exceptional speed capacity will cut the travel time by half, linking Tokyo's Shinagawa Station with Nagoya in about 40 minutes, a journey which currently takes approximately 80 minutes," reports the Daily Mail.