11 #MyDressMyChoice Tweets That Everyone Needs to See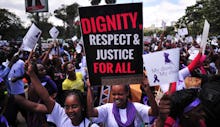 The news: More than 200 Kenyans, many dressed in miniskirts, protested Monday on the streets of Nairobi to show support for a woman who was stripped by a mob of men who claimed she was dressed "indecently."
A witness posted the attack online after the unnamed woman was assaulted last week at a Nairobi bus stop. In response, a group of mothers going by the name Kilimani Mums organized protests and may have helped the incident to be investigated, the Star, a Nairobi-based newspaper, reported.
"When it comes to violence against women, there are no grounds for tolerance and no tolerable excuses. I hope that investigations will be carried out and the culprits charged for assault," Rachel Shebesh, a Kenyan politician and women's representative for Nairobi County told the Star. "We must take tangible action to eliminate violence against women."
The assault also sparked the #MyDressMyChoice hashtag on Twitter to decry violence against women and demand justice from the attack. Many took to social media as they protested on the streets or watched the demonstrations unfold from afar:
Men joined the women in wearing revealing clothing to show their support:
A conservative Christian group led a rival demonstration with the chant, "We are a God-fearing nation."
To which another user replied: "What if I can wear it in front of my modern father who supports freedom? Men should stop making excuses for assaulting women."
Background: In Kenya's conservative society, women's rights are often abused, activists reportedly said at the rally. Despite the growing indignation, two more women were sexually violated in Nairobi and the coastal city of Mombasa since the video went viral last week, Al-Jazeera reported.
Many women who face assault are not waiting for the government to take action. In one Nairobi slum, young girls are joining the program Boxgirls to learn how to fight potential attackers. Despite these efforts, challenges rooted in poverty and a poorly functioning criminal justice system make justice evasive.
"People are not well informed about preservation of evidence," Edigah Kavulavu, a lawyer with the International Commission of Jurists in Kenya, told Reuters. "Also, the taboo associated with rape, you find that she will go and take a bath and then destroy the evidence."
The woman who was attacked in Nairobi has yet to file a complaint, but the public outrage has helped start a police investigation.
"It doesn't matter whether or not the woman was indecently dressed, after all what's the benchmark for what is considered decent? Furthermore, how did stripping her bare aid in enhancing her decency?" correspondent Winnie Kabintie wrote on Kenya Forum.
h/t Al-Jazeera