The KKK Promised "Lethal Force" In Ferguson, So Anonymous Is Taking Them Down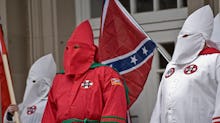 Hacktivist group and occasional good guy Anonymous has seized control of a Twitter account associated with the Ku Klux Klan and launched attacks on its online services, all in the name of protecting residents of riot-torn Ferguson, Missouri.
The group also brought down a website belonging to a local branch of the KKK, which issued racially motivated threats against civil rights activists in Ferguson. According to a statement received by ZDNet, Anonymous has also gained access to some Klansmen's emails and has distributed the phone numbers of KKK members for anonymous harassment.
Here are some of the messages sent out from the compromised account:
The background: Anonymous was spurred into action by racist death threats released by the Traditionalist American Knights of the Ku Klux Klan (TAK KKK), which operates out of the town of Park Hills, about 75 miles south of Ferguson. The grand jury deliberating whether or not to indict Officer Darren Wilson, who shot and killed black teenager Michael Brown in August, will soon release its decision amid widespread speculation that Wilson will not be prosecuted for the shooting. 
The TAK KKK is taking the opportunity to sow as much discord as it can. The group recently issued the following flyer promising to use "lethal force" against "terrorists masquerading as 'peaceful protestors [sic]'":
TAK KKK President Frank Ancona justified the flyers in an interview with MSNBC's Chris Hayes, telling him that "the flier, if you read it, it says 'defend', it talks about defense. So, in order to defend yourself, that means you're being attacked."
He added, "It kind of came about from hundreds of calls we've been getting from residents of St. Louis County concerned with things that they are seeing on social media about random attacks on whites, D.C. Sniper-style-type shootings, police officers being threatened that their wives are going to be raped and that they are all targets."
Ancona now has a major headache on his hands. Just one day ago, the KKK was pretty sure this couldn't happen to them:
In a news conference last week, Missouri Gov. Jay Nixon said that there were plans to prevent the violence surrounding previous protests in Ferguson from re-occurring. "That ugliness was not representative of Missouri and it cannot be repeated," he told CBS St. Louis, adding that more than 1,000 officers will be specially trained before the decision and that the National Guard would be made available if needed.
Correction: Nov. 17, 2014