This Video Shows the Immediate Aftermath of the MH17 Crash in Ukraine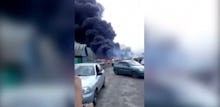 The news: The Associated Press released Sunday newly discovered footage of Malaysia Airlines Flight MH17, the passenger jet that was shot down and crashed in rebel-held eastern Ukraine in July. 
A Hrabove resident shot the film, which shows plumes of smoke, charred earth and scattered embers mere feet away from homes in the Ukrainian village. According to the Associated Press, onlookers had initially believed the craft to be from the military, even asking whether the pilot had been found.
The cause of the crash, which killed the crew of 298 people — 193 of whom were Dutch citizens — is still not entirely clear.
The Wall Street Journal reported that in September, a Dutch investigation concluded "high-energy objects" (read: missiles) from a "sophisticated anti-aircraft weapon" brought MH17 down. Russian state media produced an image of an alleged Ukrainian fighter jet shooting the plane down.
Until recently, the Ukraine conflict kept investigators away from the MH17 wreckage. But Sunday, Dutch investigators finally started to collect pieces of the flight's remains, with the eventual goal of returning it to the Netherlands for uninterrupted study. Hopefully then, more answers will be revealed.