One American City Has a Brilliant Plan to Fight Homelessness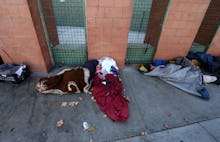 Madison, Wisconsin, debuted its effort to help the homeless — a village of tiny houses. 
Wisconsin's capital unveiled over the weekend a neighborhood of one-room homes for the city's homeless population. The Tiny House Village offers three completed homes; four people are set to move in this week.
Nine homes, all made from reclaimed and recycled materials, will be completed by the end of the project. Plans also include the addition of a bathroom, a community room with a kitchen and a laundry facility, a garden, a tree orchard and chickens.
And it's costing the public nothing. Organized and funded by Occupy Madison and a local homeless coalition, the project is being funded with private donations, and the homes are being built on private property.
Madison's undertaking is a compassionate alternative to other cities' efforts. For example, London tried "anti-homeless spikes," San Francisco blared noises to disrupt the sleeping homeless and, in 2012, New York City tried to ban individual food donations to the homeless.
For some reason, not too many cities have tried what seems like an obvious solution to homelessness — a home. 
Madison joins a handful of other cities with similar projects in the works. Newfield, New York, has plans for 14 to 18 tiny houses and Austin, Texas, plans to build a 27-acre village that will house 200 people.
Expect this trend to continue. Cities such as Portland, Oregon, have begun to investigate the villages as a possible solution for homelessness in the city.
There's good reason more cities are considering this option — it's a smart one. Tiny house villages provide more privacy and independence than traditional shelters and sturdier protection than "tent cities." Moreover, Time reports that tiny homes could be less costly than typical emergency shelters, "which cost up to $16,000 a year and lack plumbing."
Given all of the information, the idea of tiny house villages seems all the more brilliant. Here's to hoping that Madison is just the first in a long line of cities to realize it.