Sam Smith's New Classic Sounds Even Better With a Vintage, New Orleans Twist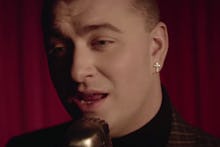 Forget dubstep remixes and Top 40 mashups: Scott Bradlee and Postmodern Jukebox have taken Sam Smith's "I'm Not the Only One" and spun the heartfelt ballad into a jaw-dropping New Orleans brass band cover.
Taking on a Smith song is no easy feat, but Postmodern Jukebox put an amazing New Orleans twist on the song that reveals just how great it is. Complete with trumpet, trombone, clarinet, drums, piano and American Idol season 10's Casey Abrams on vocals, the group spins the 11th most popular song in the country into a totally fresh, ecstatic number. The cover has all the emotion behind the song while stepping it up with a blast of boogie.
The video debuted on Billboard alongside an interview with Bradlee, the genius behind the group, on how he went from being a jazz pianist to pop's foremost reinterpreter:
"I just realized that like it or not, pop music is extremely important to a lot of people. It's relevant and it speaks a lot about our culture. Just the fact that it's a reflection of our culture means that it's significant culturally. When you release yourself from the music school dogma of only believing that certain types of music is good music and everything else is bad, it allows you to appreciate things a lot more."
This isn't the first time the group has hit viral success by covering a pop hit as a jazz standard. Their doo-wop cover of Miley Cyrus' "We Can't Stop" was a widely watched doozy on musical merit alone, no twerking needed. Postmodern Jukebox has also put a genre spin on the likes of "Anaconda," "All About That Bass" and "Problem" — attracting a very large audience along the way. And it's been an especially big year for them: Postmodern Jukebox's YouTube page notched more than 100 million views in 2014.
Good thing Bradlee changed his mind about pop music. His group's covers show that beneath our music's shiny 2014 surface is a classic waiting to be unleashed. And every great song deserves this sort of brilliant touch.
h/t Billboard