Letting Teens 'Sleep In' May Save Their Lives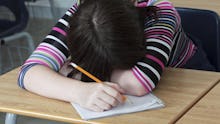 The news: Waking up early for school isn't just a pain in the butt. It may actually kill you.
Teens complaining about having to show up for school in the wee hours of the morning aren't just whiners, they're taking unnecessary risks to their well-being. A new study from the American Academy of Sleep Medicine has found that teens who start high school earlier in the day are involved in significantly more car crashes. The findings add credence to warnings from the American Academy of Pediatrics that teen sleep deprivation is a growing national epidemic.
The study: Scientists compared the weekday crash rate during the 2009-2010 and 2010-2011 school years between schools in Chesterfield and Henrico counties, both in Virginia. Both counties had identical adult crash rates over the same period, but Chesterfield County's high school classes started at 7:20 a.m. and Henrico County's didn't until nearly an hour and a half later, at 8:45 a.m.
The results were striking. In Chesterfield County, the rate of weekday crashes involving teen drivers was 29% higher in 2009-2010 and 27% among 16- to 17-year-olds in 2010-2011. When the team looked into the causes of the accidents, they found that many of them involved run-off crashes off the right side of the road — potentially the result of falling asleep at the wheel.
In a news release, lead study author Dr. Robert Vorona said, "There are more and more data suggesting that insufficient sleep is common in our teens and that early high school start times are a contributor to teens' reduced sleep. Insufficient sleep appears to have deleterious consequences such as decrements in mood and increased risk taking, impaired academics and increased crash rates."
The results seem to dovetail with the result of a similar study conducted by researchers at the George Institute For Global Health in Sydney, Australia, last year. There, researchers surveyed 19,000 17-24-year-olds' driving records and cross-examined the results with questionnaires they had filled out specifying how many hours of sleep they got nightly. Those who reported under six were much more likely to be involved in a crash, with the lightest sleepers being about 21% more likely to be in an automotive accident. Persons who got less than six hours of sleep on the weekend were an astonishing 55% more likely to crash their vehicles.
Why you should care: Early school start times probably aren't building character; they're just encouraging students to lose out on sleep. A National Sleep Foundation poll found that 87% of high schoolers get less than the pediatrician-recommended 8.5 to 9.5 hours of sleep a night. This is particularly bad because the National Highway Traffic Safety Administration claims young people and particularly young men are responsible for the majority of drowsy-driving accidents; a 1995 study concluded that drivers under 30 were responsible for almost two-thirds of such incidents.
The Centers for Disease Control and Prevention estimates that around 2.5% of fatal crashes and 2% of those that cause injuries are the result of a drowsy driver. In a study of 150,000 adults across the country, the CDC found that approximately 4.2% admitted to falling asleep at the wheel in the past month alone. But an AAA report released this month concluded that sleepiness on the road is much more dangerous than those previous estimates, causing up to 328,000 accidents annually.
Ultimately, these accidents kill. The AAA's updated numbers suggest sleep deprivation causes 109,000 injury-inflicting crashes and 6,400 fatalities each year. Armed with this study, however, students and parents may be able to persuade schools to lower that number for good.