Bruno Mars Just Released the Feel-Good Music Video of the Year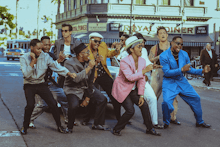 The video for Bruno Mars and Mark Ronson's "Uptown Funk" is the single most fun, funky and defiantly old-school thing of 2014.
Complete with a punchy horn section, numerous catchy vocal hooks, a tight slap bass line and Mars' vibrant voice, the song always had a good groove to it. But the video turns all of that to 11. It's easily the most joyous music video of 2014.
Mars' dancing (or walking) has never been more infectious. He struts through New York in his pink jacket and white fedora. He and his company of dancers groove through classic New York scenes. They chill on townhouse stoops, get their shoes shined and take the stage in a dimly lit blues club to bring it all home. 
The track's producer and mastermind, Mark Ronson, pops up here and there — basically whenever there's no group dancing required. He does look pretty badass sitting on the hood of that stretch limousine, like a young James Dean with a preternatural gift for bringing the funk and no moves whatsoever.
We could have done without the brief glorification of catcalling that comes at 3:36. But compared with the rest of misogyny running rampant throughout today's music videos (e.g., Robin Thicke, LMFAO + Lil Jon's "Literally I Can't," Maroon 5's "Animal"), it's pretty tame. 
Everything else is an absolute joy to watch. Keep an eye out for more as we approach Mark Ronson's album release early next year.
h/t Billboard