Neo-Nazis Marched into a German Village, So The Villagers Found a Genius Way to Fight Back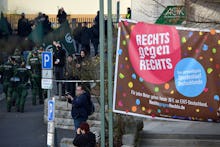 When a group of neo-Nazis marched through a small German town last weekend, the townspeople met them with cheers, banners and confetti.
The people of Wunsiedel weren't suddenly receptive to the neo-Nazis' message of hate. In an ingenious decision, the group Rechts gegen Rechts (or Rights versus Rights) set up a fundraiser in which local businesses and residents donated money to an anti-Nazi program for every meter the visiting extremists marched.
Take a look:
The fundraiser was a success, raising 10,000 euros (about $12,500) for EXIT-Germany, a nonprofit that provides assistance for people in transitioning out of extremist groups and back into normal life.
The 250 participants in what was called Germany's "most involuntary walkathon" were met with a choice — continue with their march as planned and raise money to help thin their ranks or admit defeat. They chose the former, and the charity was better for it.
The background: Every year, neo-Nazis descend on Wunseidel because Rudolf Hess, Adolf Hitler's deputy, was buried there. While his remains were exhumed in 2011 and the grave destroyed, according to the Guardian, the pilgrimages continue.
The townspeople have tried plenty of other ways to stop the marching, from protesting to filing formal legal challenges. But this year, the best option was tricking the neo-Nazis into supporting a worthy cause.
"We want to show what else you can do, what other courses of action you have," organizer Fabian Wichmann told German news agency Deutsche Presse-Agentur. "You can do more than just block the street or close the shutters."
h/t Washington Post