If You Love Bob Marley And Also Marijuana, There's Great News For You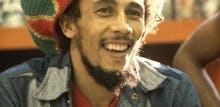 The news: Stoners, rejoice! The late legendary reggae artist and well-known marijuana enthusiast Bob Marley will soon be the face of the "first global brand of marijuana."
Marley's family and a Seattle-based firm announced their collaborative effort in the creation of Marley Natural, a "premium cannabis brand rooted in the life and legacy" of Marley. NBC reports the line will "include pot-infused creams, accessories (like vaporizers in the style of e-cigarettes) and strains of 'heirloom Jamaican cannabis' inspired by the herb that Marley enjoyed in extravagant, finger-sized joints."
Marley Natural will essentially be the first modern marijuana consumer brand, available for sale in states with legalized recreational cannabis (Alaska, Oregon, Colorado and Washington).
"This is what the end of prohibition looks like," investor and Marley Natural owner Brendan Kennedy told NBC. "Bob Marley started to push for legalization more than 50 years ago. We're going to help him finish it." Marley's daughter Cedella Marley, 47, added that "It just seems natural that Daddy should be part of this conversation. As Daddy would say, 'Make way for the positive day.'"
Would Marley have approved? Well, we know he's definitely on board with part of it:
Cedella Marley told the Guardian that Marley Natural is an "authentic way to honor his legacy by adding his voice to the conversation about cannabis and helping end the social harms caused by prohibition."
When High Times asked Marley in 1976 if the government would eventually legalize marijuana, he responded "I don' know if dis government will, but I know Christ's government will."
So while the legalization thing is straight up Marley's alley, the capitalist bent of the enterprise might have bothered him. A few years later in 1979, he told 60 Minutes he was uninterested in money: "Possessions make you rich? I don't have that type of richness. My richness is life, forever."
Kennedy said the brand is a way to protect Marley's image against unlicensed use in pot shops and marketing materials. In 2011, Billboard theorized that the unauthorized use of Marley's likeness had generated hundreds of millions in revenue. It's doubtful Marley — whose beliefs were so strong he never even wrote a will — would care much about who gets rich from this bounty.
His family contests that. In 2012, Marley's son Stephen responded to a Forbes article that alleged feuds over money were destroying the musician's legacy. From the Jamaica Observer:
"What Forbes, or whatsoever dem name, don't understand is that my father is a businessman. When he was here, he had a record shop, recording studio, pressing plant and printed T-shirts. So what we are doing is just a continuation of his works," he said defiantly.
Why you should care: With the entrance of major corporate owners, pot is now mainstream. With an estimated national market for recreational marijuana reaching $1.53 billion this year and a possible growth of $10.2 billion by 2019, marijuana is attracting investors interested in a different kind of green. Companies like DixieElixirs are competing with Marley Natural to appeal to the same type of consumers who shop at Whole Foods, marketing weed as a natural remedy for the mind, body and soul.
While Marley probably wouldn't have been on board with all this commercialization, soon you'll be seeing legal weed products bearing his name. That, at least, is a partial victory.