This Rap Album May Send a Man to Prison for Life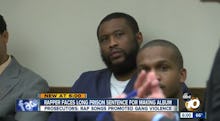 Every time a rapper talks about pulling out his gun and shooting someone, is he confessing to murder?
California courts seem to think so.
Rapper Tiny Doo, aka Brandon Duncan, is currently on trial for murder. Not because he was involved in any actual shootings, but because he recorded a violent rap album in which he claims ties to a gang that did.
A never-before-used 14-year-old California law allows gang members to be prosecuted if they profit off crimes committed by other gang members. Courts are claiming that Duncan's gang affiliation helped him sell copies of his most recent album, No Mercy. And because that gang is linked to nine shootings, Duncan is facing a potential sentence of life in prison. 
"It's shocking," said Brian Watkins, Duncan's attorney. "He has no criminal record. Nothing in his lyrics say go out and commit a crime. Nothing in his lyrics reference these shootings, yet they are holding him liable for conspiracy. There are huge constitutional issues."
The law is more than a little problematic. The scrutiny Duncan's lyrics are receiving is almost entirely unique to rap. Other violent art forms don't receive nearly the same legal treatment in courts. But rap, it seems, isn't to be considered as real art; it's simply an outgrowth of gang activity and an expression of potential violence. The law is meant to reduce gang violence, but in execution it seems to be targeting black men.
10News in San Diego reached out to Alex Kreit from the Thomas Jefferson School of Law for comment, and he agrees there are constitutional issues at stake. "Where does that end if that's the definition of criminal liability? Is Martin Scorsese going to be prosecuted if he meets with mafia members for a movie for his next film?" Kreit said. "The Constitution says it can't be a crime to simply make gangster rap songs and hang out with people that are committing crimes. You have to have more involvement than that."
This is not the first time that rap lyrics have been submitted as evidence in criminal cases, though. In 2008, rapper Vonte Skinner was sentenced to 30 years in prison for attempted murder, largely due to a trove of violent lyrics he'd penned over the years. Thirteen pages of lyrics, featuring lines like "Crackin' your chest when I show you how the force spits, / Makin' your mother wish she would have had an abortion," helped convince a jury Skinner was guilty in the absence of solid witness testimony or other evidence. Earlier this year, in a stunning reversal, he was released in an appeal, which said his lyrics were used to unfairly prejudice the jury against him. 
Other rappers haven't been so lucky. The New York Times asserts that rap lyrics have been submitted as evidence in 18 other cases in New Jersey alone over the years, and they were admitted 80% of the time.
The fact that courts so consistently consider rap lyrics as evidence reveals a discriminatory undertone. Other art forms that don't have the same historically black authorship don't face the same intense scrutiny. One of the few cases in which prosecutors tried to use art as evidence occurred 30 years ago, when Washington state courts tried author Gerald L. Hanson for first degree assault. Prosecutors submitted a piece of crime fiction Hanson had written as evidence the author had a "violent streak." The conviction was overturned, because the court rejected "the proposition that an author's character can be determined by the type of book he writes."
Rappers don't enjoy this benefit of the doubt, largely because rap is commonly seen as race-specific music. Authorities aren't willing to give the rapper's musical persona and his actual life sufficient attention. They're simply reducing him to stereotype.
What is clear is that courts don't consider rap music as an art form on the same level as other styles. 
"Just because it rhymes and has a beat doesn't necessarily make it art," said Ezra D. Rosenberg, a lawyer in the Skinner case. It should be noted that the music of Johnny Cash, an example cited within that case, is also just monotone rhymes and beat. Yet he would never be put on trial for shooting a man in Reno as the song "Folsom Prison Blues" asserts. 
Tiny Doo's case is different because his lyrics are being used to prove his involvement in a gang. Yet they seem also to be prejudicing opinion against him and justifying the perception that he's dangerous simply because of affiliation and musical preference.
Violent art does not imply violent intent. Black men can write violent lyrics and still lead honest lives. Look at Jay Z, Nas or any rapper who got themselves out of the hood with their rhymes. A gun reference should not equal a gun charge. It's not that black and white.
h/t HipHopEarly