If You Care About Women, Delete Your Uber Account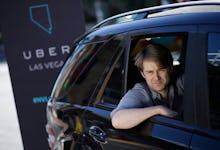 Oh, Uber. You've had a good run, but your sexist reign may soon come to a harsh end. 
It's hard to count all of the ways Uber has degraded, diminished and generally harmed women since its founding in 2009. Whether it's the CEO openly referring to the company as "Boober," the company's chauvinistic ad campaigns, the alleged slut-shaming of female passengers who accused drivers of assault, or the reports that drivers "choked" and even attempted to abduct female passengers, the company has built a reputation for an increasingly problematic and misogynistic management style and culture. And that's saying something in Silicon Valley.
Image Credit: Instagram
The most recent example of Uber misogyny comes courtesy of Emil Michael, a senior vice president at Uber (and an adviser to the Department of Defense) at a dinner of the rich and influential in New York City.
He suggested that the company should invest money to discredit a female journalist by attacking her personal and family life. BuzzFeed Editor-in-Chief Ben Smith wrote: "Over dinner, [Michael] outlined the notion of spending 'a million dollars' to hire four top opposition researchers and four journalists. That team could, he said, help Uber fight back against the press — they'd look into 'your personal lives, your families,' and give the media a taste of its own medicine."
Smith also reported that there the executive "was particularly focused on one journalist, Sarah Lacy, the editor of the Silicon Valley website PandoDaily," because she had called the company sexist for being tied to a French escort service.
Lacy details how the company has targeted and attacked her in a post on PandoDaily.
Given the company's prior treatment of and attitude toward women, the fact that Michael singled out a female reporter (who now fears for the safety of her family) is telling. Lacy is far from the only journalist to critique the startup. Sam Biddle, formerly of tech blog ValleyWag, has voiced concerns on multiple occasions. In this context, the Uber's executive's words seem to represent a deliberate and surprisingly unapologetic hostility toward women.
This tone deafness is reflected in the company's response to the controversy, as well. As Rachel Sklar rightfully points out, while Uber has since walked back the opposition research comments, its original statement did not include an apology to the female reporter in question.
When Mic reached out for comment, Emil Michael said "the remarks attributed to me at a private dinner — borne out of frustration during an informal debate over what I feel is sensationalistic media coverage of the company I am proud to work for — do not reflect my actual views and have no relation to the company's views or approach. They were wrong no matter the circumstance and I regret them." In other words, Michael seems to feel really bad he was caught. Sure, he later apologized to Lacy over email, but why not do it publicly?
For her part, Lacy notes that she first heard of the remarks while in London for work. "A chill ran down my spine that had little to do with the weather," she wrote. "I immediately thought of my kids at home halfway around the world, just getting out of their baths and groggily pulling on pajamas." Michael's comments were not in the abstract — he was quite literally threatening Lacy's privacy and livelihood, and therefore also her family's.
Given that most social media users are women and that most female journalists use social media, the Twitter backlash didn't take long. Users in and outside of the media expressed their outrage online.
Uber may have taken its commitment to not giving a fig about women one step further this time, but the good news is that now we get to the company finally face consequences for it. Your free ride is over Uber; it's time to pay up.
Many online users (of all genders) have already deleted their accounts. If you care about women, you should, too. Since the company has made that process rather hard, here's a helpful guide.