Here's What Comes Next in the Legal Fight for Justice for Michael Brown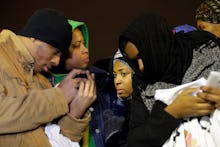 More than three months after the deadly incident that sparked nationwide protests, a Missouri grand jury has decided not to charge Ferguson police Officer Darren Wilson in the Aug. 9 shooting of 18-year-old Michael Brown, who was unarmed. 
Now, as demonstrators take to the streets again, Brown's family, their lawyers and federal law enforcement officials will turn their focus to the three remaining courses of action in the fight for legal justice: the potential for federal civil rights charges against Wilson, the remedies available to the family in civil court and a federal investigation into the conduct of the Ferguson Police Department.
Federal civil rights case: Before visiting Ferguson this summer to calm nerves during a prolonged period of police crackdowns on protesters, U.S. Attorney General Eric Holder revealed that his Department of Justice would open a federal civil rights investigation into the killing. 
But the Washington Post reported Oct. 31 that federal charges were unlikely, too. 
"The evidence at this point does not support civil rights charges against Officer Wilson," an anonymous Department of Justice official told the Washington Post. "The evidence we have makes federal civil rights charges unlikely," said another.
A spokesman for the department called the story "irresponsible" and claimed no decision had been reached but did not deny the substance of the report.
The federal investigation into Wilson's actions is likely to continue for weeks or months, but professor James Jacobs, a constitutional scholar and director of New York University's Center for Research in Crime and Justice, told Mic that, barring new evidence, federal charges "seemed very unlikely."
"They would need to prove intent to violate the victim's constitutional rights," he said. 
The Wall Street Journal reported Monday that "some of the evidence gathered by the federal investigators has already been presented to the local grand jury." Another sign that they do not have the legal goods to go forward with more serious charges.  
Civil suit: Jacobs believes the family's best option now is to pursue "a civil wrongful death suit." 
Asked about that prospect, Brown family lawyer Benjamin Crump recently suggested it was under consideration.
"We will look at all appropriate legal avenues for the family of Michael Brown to get some sense of justice," he told CNN on Nov. 20.
Civil suits — as opposed to civil rights charges — are only meant to prove one party's liability for another's loss. There is no threat of jail time, just the potential for a significant payout to the victim or the victim's family. But even if Wilson were to be found responsible in a civil court, he is unlikely to feel any financial pain. Since he was acting in his capacity as a police officer during the shooting, the bill in any civil decision or settlement would be paid by St. Louis County or the state of Missouri, meaning taxpayers would ultimately be on the hook for a potential payout to the Brown family.
Ferguson police under investigation: In early September, Holder announced that his office would broaden its investigation to include a potential "pattern or practice of violations" by the Ferguson Police Department.
As the St. Louis Post-Dispatch reported, "The investigation of Ferguson police will include the department's use of force, traffic stops, searches and arrests, Holder said, adding that Ferguson officials welcomed the inquiry and pledged their cooperation. Justice Department officials said there is no timeline on the length of the investigation, and that it would depend on the cooperation of local authorities."
Asked about the investigation at a conference Oct. 29 in Washington, D.C., Holder said, "I think it's pretty clear that the need for wholesale change in that department is appropriate."
What that would entail and how the Department of Justice would go about enforcing remains to be seen. 
The Albuquerque Police Department, which had been under similar federal scrutiny, recently signed an agreement with the officials in Washington, D.C., to carry out a joint overhaul of its office, which "requires new use-of-force policies" and revamped officer training programs.
Long road ahead: No matter what path this case takes going forward, the process will require patience from Brown's family and its supporters. "Justice too long delayed, is justice denied," the Rev. Martin Luther King Jr. wrote, paraphrasing the old expression, in his "Letter from the Birmingham Jail." 
But King also believed that, despite the setbacks and indignities — like the long, strange and smug monologue St. Louis County prosecutor Robert McCulloch gave during his Monday night press conference — the truth would ultimately prevail.
"The arc of the moral universe is long," he said, "but it bends toward justice." Brown might've been denied his Monday night, but there are still roads to travel.