Taco Bell Just Showed Everyone How to Hack the Perfect Thanksgiving Dinner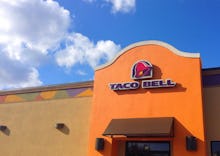 This was not your typical Crunchwrap Supreme dinner.
For those looking to hack a fast-food takeover of Thanksgiving meal (we know you're out there), you could slave away in the kitchen, trying to come up with a way to bring the drive-thru to the dinner table. Or you could just hope to be invited to partake in Taco Bell's dastardly, genius creation.
Last week, Taco Bell hosted its second Friendsgiving Feast at its California headquarters, and the menu looks even better (and more sophisticated) than we could have imagined. The fast-food kingpin invited a group of Taco Bell enthusiasts to the epic meal to say thanks for all the social-media love. And instead of serving Party Packs to the guests, the chain whipped up traditional Thanksgiving dishes with a T-Bell twist.
Behold the menu:
Yep, it's an entire Thanksgiving dinner infused from start to finish with Taco Bell flavor. The highlights:
Caramelized Corn and Nacho Cheese Sauce Shooter with Taco Seasoned Popcorn: This sounds incredibly messy, incredibly gooey and so, so incredibly delicious. A delicate transformation of a favorite cheese concoction presented in bougie form. So fancy! 
Taco Shell Cornbread: Ah yes, just like they had at the original Thanksgiving back in 1621, but with the crunch of the handheld Mexican delight. Move over, Marie Callender, there's a new cornbread competitor in town. 
Mountain Dew Sangrita Blast Cranberry Relish: First it's like "Wha..." but then you think about it longer and it's a little more, "YES." Cranberry sauce is already weird enough and only eaten once a year. Might as well upgrade it with a burst of Mountain Dew.
Cool Ranch Doritos Locos Tacos Infused Garlic Butter: Doritos? Butter? 
While some sit-down restaurants offer Thanksgiving meals for those who wish to dine in and others merely provide the components of your favorite holiday dishes, Taco Bell has put its signature zest on the beloved holiday. 
"Our Taco Bell food innovation team hacked the traditional Thanksgiving meal by incorporating Taco Bell food into your favorite dishes," Taco Bell wrote Mic in an email. Unfortunately for us plebes, we won't be able to find any of this gourmet cooking at the franchise locations. 
"My favorite thing was the turkey. It was like normal sliced turkey but it was so delicious and juicy and spiced perfectly. It had a Taco Bell seasoning, a different taste," said YouTube star Kaleb Nation, who has been to the Friendsgiving Feast two years in a row.
According to a Taco Bell representative, invites went out to the brand's closest friends, mainly people big on social media with thousands of YouTube subscribers, Twitter followers or Instagram fans. Names like iJustine, Tim DeLaGhetto and Brian Logan Dales were in attendance, meaning you needed to be at least a little famous to get a seat at the table.
As any Taco Bell lover knows, the chain itself has a huge social media presence, chiming in humorously with celebrities on Twitter or jumping on Instagram trends. The icon celebrated by everyone from stoners to Fergie had other buzz-worthy stunts this year, including sending out burner phones with missions as part of its breakfast menu marketing campaign and distributing Everlasting Dollars in Willy Wonka fashion for the chance of winning T-Bell for life. 
The Friendsgiving Feast is part of that effort. The group that returned for the second annual Friendsgiving Feast — which included swag like necklaces, rings and a free PlayStation4 — has been dubbed the Taco Bell family; Kaleb Nation described the feast as a family reunion. 
A very smart reunion. Bringing together an exclusive posse of social media moguls makes sense for Taco Bell. By creating goodwill between it and its guests, it reaps the benefits of accessing the masses of followers the Internet-savvy stars have. The company knows the best way to build up a slew of gordita devotees. 
And, apparently, how to put together a kickass Thanksgiving dinner. If you're brave enough, you can try to cook it up in the kitchen yourself.