New York City Has Rejected Taylor Swift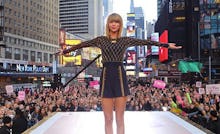 Taylor Swift moves to town, buys herself a $20 million nest in Soho and opens the year's biggest album with a song called "Welcome to New York." The city's response: name her the official NYC Global Welcome Ambassador, have her host the New Year's Eve party in Times Square and score easy spikes in publicity and tourism. 
Easy victory, it would seem. One problem: New Yorkers aren't taking so kindly to Swift.
"Welcome to New York" was met with sneering backlash from NYC writers and artists, who slammed it as a "gentrification anthem." Data gathered by Billboard and Neilsen Sound Scan revealed last week that Swift's 1989 — the best-selling record released this year — is actually underperforming sales wise in the NYC area. 
It's clear that Swift is not as welcome in New York as she may think. 
When Swift made her first claim to the state with her song, the response in most NYC-based publications was swift and decisive.
"The New York of 'Welcome to New York' is what you would get if you populated it entirely with humans raised in the Times Square Bubba Gump Shrimp Co., then let them out into the world with only a penthouse apartment, an Amex black card, and leopard-print Prada luggage to guide them," the Village Voice's David Colon wrote.
The Gothamist asked NYC-based rapper Awkwafina what she thought of the track. Awkwafina helped make a name for herself with "NYC Bitche$," a song celebrating true young New Yorker scrappiness, which could not be more contrasting to Swift's glamorous, caramel-coated vision of the Big Apple. Every word of Awkwafina's response is priceless:
"Taylor Swift's new song should be performed by TSA agents at JFK when bright-eyed transplants such as herself land in New York City. It is also the perfect background music for when that same person first witnesses a homeless man yelling/awkwardly defecating on 7th avenue and a woman getting accidentally drop kicked by a moist, shirtless acrobatic subway performer. 'Welcome To New York' is one of those songs that, with just one single radio play, will make at least 10 New Yorkers move to Marfa, Texas."
Numerous New York artists and personalities have hopped on the Swift hate train. Dee Snider of Twisted Sister offered Jerry Seinfeld as a more suitable ambassador or anyone else with "any life experience here, or connection to the town."
For New York born and raised rapper and producer El-P, one half of the infamous Run the Jewels, Swift's song was the final nail in the coffin:
El-P is not alone in his frustration about a changing New York. Gentrification has caused many neighborhoods to become all but unrecognizable to New Yorkers who grew up in them. This is thanks in large part to upper middle-class white transplants, like Swift, who bring long trains of Beacon's Closets and frozen yogurt shops in their wake. 
Swift is an easy target for those disillusioned by the increasingly yuppified New York. None of it is Swift's fault, though. Still, it would be nice not to listen to some version of her song every time you get in a taxi.
h/t Billboard