Your Tax Dollars Are Funding Anti-Terrorism Tweets About Porn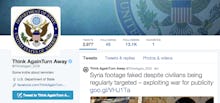 A Twitter account maintained by the U.S. Department of State had an exchange Tuesday with an Islamic State account on the subject of Hungarian porn.
Yes, it was actually about Hungarian porn, and no, this wasn't the case of a federal staffer going rogue. It's part of a targeted campaign in which the U.S. government interacts with terrorist groups on Twitter to show them the error of their ways. There's no clear way to measure whether this government-backed trolling is effective — though the above tweet would seem to point to "no."
The background: The Twitter account "Think Again Turn Away" is about a year old and has been mostly used to reply to accounts linked to militant groups, though occasionally it shares U.S. military news and photos.
It's a product of the Center for Strategic Counterterrorism Communications, created in 2010 as a way to reach potential terrorists online on foreign language forums, expanding to English sites and on social media over the past year.
"Think Again Turn Away" isn't just on Twitter. There's a Facebook account with more than 8,500 likes and an ask.fm page where some poor Department of State staffer has to spin questions like "What is your favorite restaurant in the world?" into digs at terrorists.
Other programs: Social media isn't the only front where the U.S. has tried trolling hearts and minds. A YouTube video meant to parody al-Qaida — featuring leader Ayman al-Zawahiri dubbed with strange voiceover — was released last year to some mocking.
Meanwhile, the CIA has taken to scouring online games like World of Warcraft to recruit foreign engineers and scientists as potential spies. Everyone's online, as the thinking goes — even potential terrorists and spies — so why not turn some attention to the virtual world?
Groups like the Islamic State have been surprisingly agile on social media, and the U.S. wants to keep up. But trolling may not be the best way to convince people to turn away from terrorism. Especially not when Hungarian porn is part of the conversation.