9 Chilling Photos From This Week's Deadly New York Snowstorm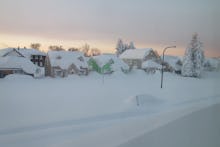 A wild and merciless snowstorm swept over parts of western New York Tuesday, bringing with it chaos, freezing temperatures and over 5 feet of lake-effect snow. 
The massive storm has already claimed the lives of five people and left residents trapped indoors and motorists stranded in their cars; the Buffalo News reported that 100 vehicles are still stuck on the New York State Thruway. 
The deluge isn't over yet, either. Officials expect snow totals could reach 6 feet in parts of the state by Wednesday afternoon, with another 1-2 feet by Friday. As the Associated Press noted, "In a region accustomed to highway-choking snowstorms, this one is being called one of the worst in memory."
Though there's no name yet for the event, the Buffalo News reported that some are calling it "Snowvember." Even meteorologists have been taken aback: Dave Zaff of the National Weather Service in Buffalo told the News that the storm "will be a historic event."
There's even drone footage: 
The stories emerging from the region are insane: The Niagara University women's basketball team was stranded in its bus for 24 hours, because even snowplows couldn't get through the snow blanket. And a Reddit user posted a photo of firefighters carrying a patient 10 blocks through the storm to a hospital. As many as seven people may have lost fingers when they tried to clean out their snowblowers.
"I don't think I've ever seen it this bad," Tricia Blenk, a Buffalo resident, told Mic by phone. "In Buffalo, you're used to driving in the snow, but this is just something else." 
"How do you prepare for getting 6 feet of snow in 24 hours?" she added. "There's nothing you can do."