These Native Americans Are Teaching America the Real Meaning of Thanksgiving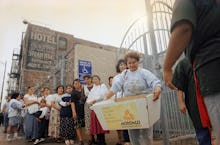 Nearly 400 years after the "first Thanksgiving," the Morongo Band of Mission Indians is leveraging what has become an overtly romanticized holiday to care for others.  
On Monday, the tribe began handing out 10,000 turkeys to charities as part of an outreach program that will ultimately provide 150,000 Thanksgiving meals to families, seniors and veterans in need across Southern California. This year's donations will mark the 1.3 millionth holiday meal provided by Morongo's Thanksgiving Outreach program, which has existed for nearly three decades.
More than 100 nonprofits, churches and social programs throughout Banning, Riverside, San Bernardino, Temecula, Desert Hot Springs, Indio, Palm Desert, Los Angeles, Carlsbad and more, will be the recipients of Morongo's donations this year. 
And Morongo's altruism is as varied as it is plentiful. According to Indian Country Today, the turkey donations will benefit a cadre of organizations, from the Veterans of Foreign Wars to the Los Angeles Mission, Kansas Avenue Resource Center in Riverdale and much more. 
"Each year without fail, the Morongo Band of Mission Indians blesses those in need with warm Thanksgiving meals," Herb Smith, president of the Los Angeles Mission, told Indian Country Today. "We are honored this Thanksgiving to once again partner with Morongo to provide food and care to others."
Morongo's dedication to helping those in need pays tribute to the idealized spirit of Thanksgiving, a largely commercialized tradition steeped in what author Richard Greener calls a "cleverly created slice of cultural propaganda, just another in a long line of inspired nationalistic myths." 
Indeed, the history behind what has become a feel-good holiday is characterized in large part by bloody conflict. Indeed, for some Native Americans Thanksgiving isn't cause for celebration at all, but rather a time of mourning. Since 1970, the United American Indians of New England and their supporters have gathered at Plymouth Rock on Thanksgiving Day for a National Day of Mourning. 
These historical tensions aside, however, helping others has long been a priority for the Morongo tribe. In addition to its Thanksgiving program, Morongo recently donated new shoes to 800 low-income children, and in May, presented a local Little League with thousands of dollars for equipment.
According to the Los Angeles Times, Morongo has amassed a fortune running one of the largest Indian gambling facilities in California, and the tribe's website indicates they also run a travel center, an orchard, golf club and have an agreement with Arrowhead Mountain Spring Water, which operates a bottling plant on the Morongo reservation. The tribe is also a major economic contributor to the Coachella Valley (home to the Coachella Valley Music and Arts Festival, which has been repeatedly criticized for appropriating native culture).
It seems we can all learn an important lesson from the Morongo Band of Mission Indians: No matter a person's background, nurturing others is the measure of a true American.