Want to Be Successful? Don't Go to Grad School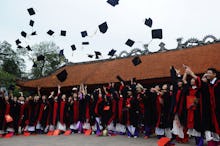 The news: While the pursuit of higher education might be making millennials smarter, it's not helping them get jobs or make more money, according to a new study from Payscale and Millennial Branding, a millennial-centric research firm.
The study sampled approximately 350,000 millennials, 520,000 Generation Xers and 270,000 baby boomers and compared their degree levels, their salaries and their levels of employment. According to the data, millennials are the most educated and academically qualified — but they're also the most underemployed and make the least money.
In other words, despite millennials' investments in grad school are not necessarily paying off — at least in the sense that graduate degrees are not turning into better jobs.
More for less: Enrollment in graduate programs has increased by 41% since 2000, and schools gave out 57% more master's degrees in 2011 than they did in 2000. Just under 60% of millennials have a bachelor's degree, while only 44% of Generation Xers and 39% of baby boomers have one. Despite this, millennial bachelor's degree holders make about $20,000 less than bachelor's degree holders from older generations.
The statistics for graduate degrees almost seem tame by comparison. About 14% of each generation's population has an advanced degree. Regarding master's degrees in particular, Generation Xers hold a 35% underemployment rate, while millennials and baby boomers suffer a rate of 39%.
Money-making: Salary-wise, this translates to master's-holding millennials earning between $18,000-$40,000 less than their Generation X and baby boomer counterparts. Couple this with the obscene cost of graduate school and you'll realize just how broken the higher education system is.
A New America Foundation report from earlier this year found that 40% of America's $1.2 trillion total student loan debt belonged to graduate students, despite the fact that graduate students only made up around 15% of the student population. This same report noted almost 60% of grad students have to borrow money to attend, and that the median grad student borrowed $41,000, a 21% increase since 2004.
"In certain circumstances, if you want to be something, a degree could be required," Dan Schawbel, author of the New York Times best-seller Promote Yourself and co-author of the Millennial Branding/Payscale study told Mic. "But if it's not required, I think you definitely shouldn't do it. There's literally no value in getting a master's in something like marketing."
Schawbel's message is simple: Given the shrinking ROI of a graduate degree for young people, consider skipping grad school unless your job requires you obtain an advanced degree.