People Are Desperate to Buy One of Hitler's Paintings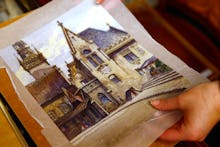 How much would you pay for Adolf Hitler's art? A watercolor painting produced by the infamous future Führer in 1914 while he was a struggling bohemian in Munich is now up for auction in Nuremberg, Germany.
Weidler Auction House auctioneer Kathrin Weidler told Deutsche Welles that the painting, titled "Standesamt und Altes Rathaus München" (translation: Civil Registry Office and Old Town Hall of Munich) was one of about 2,000 produced by Hitler from 1905-1920, before he became involved in politics. Weidler set the minimum bid for the painting at roughly $5,600, although she predicted that international interest in the work may push the price up to $63,000.
"The interest has been high from America, Japan and across Asia. I don't know if all these bidders will actually come to the showroom in person. It's possible but the last time we had a painting from this artist, that didn't happen," Weidler told Reuters.
Discounting that the artist later became history's greatest monster, the listing from the catalog looks rather nice:
According to Artnet's Sarah Cascone, the work has a storied history:
Measuring just over eight-and-half-by-11 inches, the painting currently belongs to a pair of sisters from Hesse, Germany. It was first purchased from a Munich gallery by their grandfather in 1916. The auction lot will include the original bill of sale, as well as a certificate of authenticity from Albert Bormann, the brother of Martin Bormann, Hitler's chief of staff.
Who the hell buys a painting by Hitler? There's still a major worldwide market in Nazi memorabilia, although most of the artifacts don't have such a direct connection with the Führer. In 2011, Antiques Roadshow came under fire after evaluating an autograph of Gestapo founder Hermann Goering at up to $3,000. But the show's staff later explained that the signature, obtained by an American serviceman who guarded the Nazi leader in jail, was a souvenir of conquest rather than a celebration of Goering himself. Roadshow appraiser Jeff Schrader estimated that Nazi memorabilia actually makes up over half of the militaria memorabilia market in the United States.
"If an object has no value, it will eventually be disregarded and thrown away," Antiques Roadshow's Ben Phelan wrote. "That memory will die. And then we will have forgotten."
But not everyone thinks Nazi souvenirs should go to the highest bidder. Earlier this year, ArtDaily reported that a French auction house canceled a sale of 40 Nazi memorabilia items, including "Goering's passport and a wooden chest presented to Hitler emblazoned with swastikas." France's biggest Jewish organization, CRIF, explained that it wanted to restrict sales of Nazi relics to museums and other institutions providing historical context for German war crimes during World War II.
Earlier this month, Hitler's personal copy of Mein Kampf was sold for $28,000 in Solana Beach, California. (In that book, Hitler complains about repeated rejections from Vienna's Academy of Fine Arts.) Auctioneer Craig Gottlieb, who happens to be Jewish, told the International Business Times:
The people in the Neo-Nazi world — and there are crazies out there — they aren't buying that kind of stuff because it is too expensive. These kind of people are interested in the message and not the artefact. Someone who wants to be a Neo-Nazi does not have to buy a $500 flag. They can buy a $50 flag. The kind of stuff I sell goes to historians and history buffs who are fascinated by the Swastika. They aren't in love with it.
What happens next: The auction house seems committed to selling the painting.
"Those who want to get worked up about this should just go ahead and get worked up about it," Weidler told Reuters. "They should take it up with the city of Nuremberg or with those who preserved it. It's a historical document."
Elsewhere, expect the market in Nazi memorabilia to remain strong. After all, they're not making any more of it.