The Only Female Artist on a Major Record Label Just Released This Incredible Song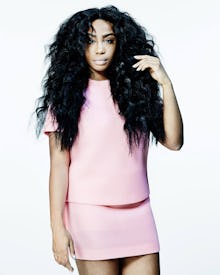 SZA is the only woman on one of the biggest hip-hop and R&B labels there is, but she's not an R&B singer.
She's made an explicit point of it time and time again. In fact, SZA's whole career has been about defying tradition. Her amazing new song "Sobriety" shows why: This is totally unique among most popular music today.
SZA prefers the term "glitter trap" to R&B. It's a reference to trap rap, which emphasizes stuttering rhythmic feels and short, clipped phrasing. It's a fitting term, considering she's supported by hip-hop's most respected label, Top Dawg Entertainment, home of Kendrick Lamar and ScHoolboy Q. 
On the emotional "Sobriety," her sustained, shimmering vocals shine over the track's dark, languorous groove produced by virtuoso bassist Thundercat. The song perfectly captures the volatile emotions involved in overcoming a breakup. She sinks deep into the doldrums on the verse, "What would my mother say? She want me to be married / And happy and whole not high and alone," before skyrocketing to inspired heights on the hook "I'mma be cool / I'mma keep calm / I'mma be right anyway."
SZA consistently releases some of the most flexible and unpredictable music out right now. The strength of "Sobriety" and her other one-offs have earned her the privilege of making up her own genre. Catch SZA performing the song on tour as she sets out with Jhené Aiko and The Internet next month.