This Barbie Doll Alternative Will Revolutionize How Girls Think About Their Bodies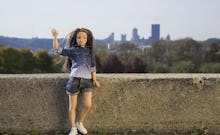 Even as news broke this week of yet another example of sexist drivel from the iconic Barbie franchise, the creator of Lammily doll, aka the "Average Barbie," was announcing that the long-awaited alternative is now available for purchase.
It seems like the long reign of one of the most problematically unrealistic toys ever made may be coming to an end.
Lammily is the brainchild of artist Nickolay Lamm, who designed the doll in 2013 in an attempt to prove to the toy industry that there was a market for dolls portraying a realistic body type. Following a highly successful crowd-funding campaign, which according to Lamm raised nearly $560,000 — greatly exceeding his initial $95,000 goal — Lamm's dream has come true. To date, the artist and designer says nearly 14,000 backers have ordered 19,000 of the dolls, with thousands more set to be available to the general public.
Lammily's looks are in stark contrast to the unattainable, and harmful, beauty standards portrayed by Barbie. Whereas Barbie is generally blonde, fair-skinned and so skinny that researchers have proven she would have to walk on all fours if she was human, the original Lammily is a brunette made to mirror the average measurements (based on Centers for Disease Control and Prevention data, according to Time) of a 19-year-old woman.
But Lamm didn't stop at height and waist measurements in his quest to make the most accurate doll yet. Lammily lovers can also purchase sticker packs that offer cellulite, acne, stretch mark, scar and even "boo boo" stickers. While some may be confused as to why children would be intrigued by such additions, Lamm thinks they're an important element to the doll's overall message.
"The stickers, as a whole, are meant to appeal to kids," Lamm told Mic. "The cellulite, acne and stretch marks, I honestly don't know what kids think of those stickers specifically, but they liked the general concept. I put those stickers in there because they symbolize that reality is beautiful."
Indeed, children so far seem to be embracing the Lammily prototype. Lamm tested the doll with a group of second-graders at St. Edmund's Academy in Pittsburgh, Pennsylvania, and was moved by their enthusiastic responses. 
"I took a video of kids reacting to the doll, and there was a point when I had to hide my face when the interview was going on with the kids because I was getting a little emotional," Lamm told Mic. "It was the first time I ever saw kids reacting to it. And how they reacted to it, it was so positive, it could have not been any more happy that day."
What's next for Lammily? Following a successful release of the first doll, Lamm plans to roll out dolls representing other ethnicities and races in 2015. He is hopeful that big box retailers will get in on the action: "With the stickers, the fashions and the doll itself, I feel it's the first time a realistic alternative is 'fun'."